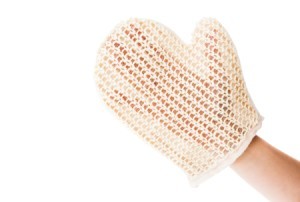 I buy bath mitts in the bath section at the grocers and they are wonderful. They are rough and designed to remove dead skin on the body, but I realized they could be used in other ways so I purchased two more pairs.
Now I wash dishes with a pair of those gloves on. I do not have a dishwasher so I use them to scrub my dishes clean. I use them for pots and pans also because I have them on. As I clean I can see every little spot on my dishes and silverware. I clean my oven racks with them on.
I also have a cat so I took another pair of gloves, placed them on my hands, wet them slightly, and ran my gloved hands over my couch. You should see the cat hair the gloves picked up. They can be used many times and are cleaned easily.
I am sure I will think of some more uses for these gloves. If I do I shall let you know. Thanks for reading!
By dollie from Tucson, AZ
Read More

Comments

Every time I cleaned my tub, I was using a scrub brush but it was slipping out of my hand. Gripping it was a pain and getting into crevices wasn't that easy.
I started to notice I had quite a few of those scrubby/loofah bath gloves.
Read More...
If you use the new disposable baby bath washcloths or mitts, why not recycle them instead of throwing them away? They're usually sturdy enough to rinse out. Spray a little of your favorite cleaning solution on them, then use to wipe down the tub and shower area, or even the counters, sink, or whatever you want to clean.
Read More...