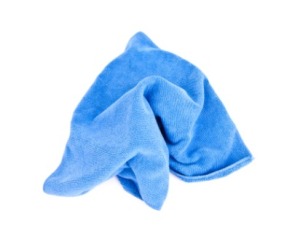 I've been shopping for kitchen towels in black as I have well water and everything turns yellow. The prices on these things are over my thrifty budget.
So, I was walking around Wal-Mart just looking and in the automotive section I came across a pack of 8 microfiber towels for washing and polishing cars and trucks. Hmm, a nice pack of bright yellow and hunter orange towels just fit the bill. They are great scrubbers and really take up a lot of water.
Problem solved! They don't (so far) show any yellowing since they were already yellow and orange to start with. Yeah!
Source: My own thrifty, stingy self.
By G-Ma to 5 from Hammond, LA
Read More

Comments

I just purchased microfiber towels and a microfiber mop from QVC.com and I love them. You use the towels to clean almost anything without chemicals.
Use them slightly wet to clean countertops, your stove, the bathroom sink, etc. I have never been able to get the shower glass to look clean.
Read More...