I invested in a laminating machine from the office store a few years ago for some craft projects, and really got carried away. I had scads of road maps (available for free from each state's tourism office). I cut these to fit my kitchen drawers, laminated them, and slid them in. They can be wiped free of crumbs and spills, and are fun drawer-liners.
Then I laminated some brochures from our favourite RV parks, and use them as placemats at rest stops. For the motorhome, I laminated one entire map to use as a giant placemat to cover the whole dining table - it can be rolled up, held together with a rubber band and stored away in the RV. And all of these nice things were free, except the cost of the lamination.
By Savannah from The Rocket City
April 11, 2007
0

found this helpful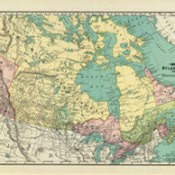 Here are some creative uses for old maps.
Place Under Glass
I used an old map to cover the top of a badly scratched desk. Laid the map on top and covered with a piece of glass I had cut to order.
By Ann
Decorate Boxes
My dad covers old ice-cream cartons (the kind you can get from ice cream shops after they're empty) with old maps to use as trashcans. They really look nice and they're dirt cheap.
Creative Wallpaper
We rented a 2 bedroom, one bath home in another state for six weeks a couple of years ago. The bathroom had been wallpapered in roadmaps. It was really fun to see even our small town listed there. And we found many places that we had visited while on vacation.
By Great Granny Vi
Place on Paneled Doors as Decor
I teastain them and burn the edges to give them a vintage look. I then cut them to the correct size and hot glue or paste them on the raised panels on my doors. The panels themselves are already framed, in essence. It really dresses up those ugly six-paneled cheapy looking doors.
Make Envelopes
My sister has made me a set of envelopes made from old National Geographic maps. You could probably find a template online or just take apart one from the mail. The construction is pretty easy and they look wonderful. She also giftwraps with them and sometimes does original artwork with maps as well.
By Jess
Mail To Your Friends
Cut out designs in starburst shape, etc., and glue to your personal mail to friends. Like, "I am on the road again" or "Come see me sometime", "Heading out again", etc. Use your imagination.
By Syd