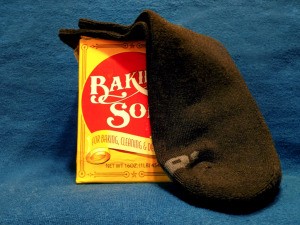 When I worked in construction, it was necessary for me to wear high top, steel toed, tightly laced boots. With no air circulation around the feet, a perfect breeding ground for bacteria was created. I found an effective remedy.
We all know baking soda is an excellent deodorant and 'sweetener'. I even use it to eliminate any odor in empty gallon milk jugs I plan to use for other purposes. Bleach will do the same but it leaves a lingering chlorine scent.
I found that baking soda is as effective and as cheap a foot deodorant as one can use. I kept a salt shaker filled with soda where I dressed. A light sprinkle in my shoes each morning prevented any odor on my feet or in my shoes.
Baking soda will absolutely stop and prevent foot odor. There is a down side though. If too much is used, it will cause profuse sweating of the feet. When my feet were squishing in my shoes, I decided I should use a bit less.
Now, I use the soda a little differently and it still works great. Rather than the sprinkling ritual every morning, I simply add baking soda to the final rinse water when I wash my socks. I don't measure, but a teaspoon per gallon of water sounds about right. If you're a lady who doesn't wear socks, a very light, daily sprinkling in the shoes might be the best method for you.
This works so well, I add soda to the final rinse water when washing shirts I will be wearing while gardening all day in hot sun. I prefer this over body powders. For me, no smell is better than smelling like a baby or somebody's maiden aunt.