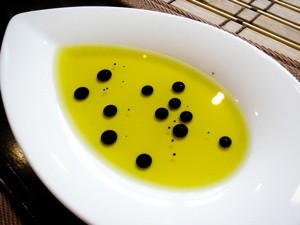 Olive Oil and Balsamic Vinegar
Description:
All balsamic vinegars are not created equal. Traditional artisan balsamic vinegar is highly praised by gourmet chefs and also very expensive. The balsamic vinegar drizzled liberally over a salads which many of us are familiar is not made in the same way as the traditional artisan balsamic vinegar, which is reduced grape juice aged for at least 12 years in various types of wooden barrels. Woods such as oak, cherry, chestnut, mulberry, ash and acacia, each year the product moving into a barrel of smaller size. Each wood adds a tint of flavor to mix. Commercial balsamic vinegars are not aged at all, they are actually wine vinegar with added color and thickening agents to make the look like the traditional variety. These commercial grade products can be made much quicker therefore much cheaper.
Uses:
Commercial balsamic vinegar can be used on salads, pastas. It can also be used as a dip for bread, for marinates, reductions and sauces. Traditional artisan balsamic vinegar should be used sparingly to enhance fruit, pastas, antipastos, eggs and steaks.
Buying tips:
If you only want this to mix with oil for your salad you can buy the commercially made. But if you are looking for traditional artisan balsamic vinegar you will want to look for consortium approved Traditional balsamic vinegar made in the Modena and Reggio Emilia provinces of Italy.
Recipes:
Storage:
The shelf life of balsamic vinegar is almost indefinite.
Substitutions:
Any vinegar can be used as a substitute for commercial grade balsamic vinegar but they will all change the flavor of the dish.