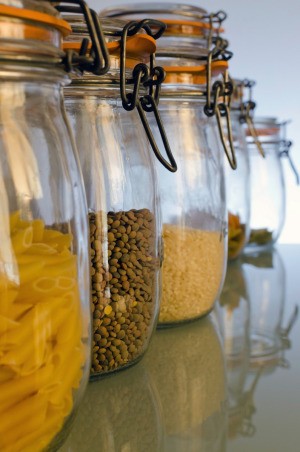 I have heavy square glass canisters with tight-fitting lids that I store dried ingredients (elbow macaroni, rice, beans, etc.) in on the countertop. The glass lets me see the level of these products so I know when to add that item to the grocery list.
When I refill these containers, I always cut the cooking directions off the package and place under the lid so that I have them handy. Although I rarely glance at the directions any more, it is really handy when someone else has to be in the kitchen preparing food.
I do have another set of canisters for other items that are stored in cupboards. I store the more traditional canisters items such as coffee, tea, flour and sugar in respective containers, but have found it very handy to keep the tea and coffee canisters in the beverage cupboard and the flour and sugar canisters in the baking cupboard.
It felt a bit unusual at first to break up the set that way, but it sure saves time and is a real convenience when someone else is in the kitchen needing these items.
By ronsan from southwest Missouri
Comments
Read More

Comments