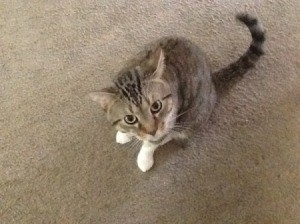 I have Dawn Ultra. It is not the normal Dawn so I'm worried if what they added to the Ultra Dawn is unsafe for cats.
By Maya W.

Answers

February 18, 2015
0

found this helpful
Best Answer
Is this meant as a flea bath? If so, you should use it as a one-time thing only. It's probably best to use a dish soap that is free and clear of dyes and perfumes for this. The brand isn't that important. Never use a lavender scented soap.
When bathing cats and kittens in general, I use a small amount of Johnson's no more tears baby shampoo. They usually keep themselves really clean, but sometimes mine gets sand in her fur and I don't want her swallowing that.
Answer

this Question
I have 2 nine year old inside only cats that have attracted fleas from somewhere. I have given both baths with an organic oatmeal and vinegar based flea shampoo for cats, but they still have fleas. My vet suggested that I make a mixture of apple cider vinegar, Dawn, and water, and bathe both kitties and then add to sprayer and spray entire house, carpet, and furniture to end my flea problem. Has anyone ever tried this and if so how much of each and did it work?
By Barbara A
Answers

October 27, 2014
1

found this helpful
I'd just go to Walmart and buy their flea and tic meds that you drop by a dropper on the back of their necks...it works great! Or...just buy some at your vet.

January 19, 2015
0

found this helpful
Yeah you can buy Wal-Mart drops, if you want to use toxic poison in your house! There are many reasons to NOT use those drops!
If you have small children that will be touching the animals often, no!
If you have a herding breed that might have the genetic disposition for being deathly sensitive to normal doses of things, no!
If you have someone in the house chemically allergic or sensitive, no!
If you've ever watched Chemerical, you definitely know, no!

I'm even cautious to use Dawn! Why? Because I know those chemical warnings are no joke!
May 31, 2017
0

found this helpful
Just don't buy Hartz!! It's been known to actually cause fatality in cats!
Answer

this Question

We have used two kinds of flea chemicals on our cats over a 2 week period, but they still have some. They are not scratching much now, but they are licking. I have stripped my bed twice now, but I am still seeing the fleas. How do I use Dawn to get rid of the fleas?
Please help us.
By Gwendolyn S.
Answer

this Question