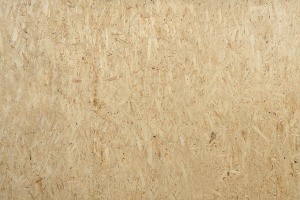 A good quality plywood can be stained, detailed with a router, or cut into strips to look like planks, to create a less expensive alternative to hardwood. Less expensive types are also a descent choice for workrooms, craft areas, etc. Read the suggestions found below for some inspiration.

Has anyone had any experience with making wood flooring out of lumber or plywood? Our carpet is awful and needs to be taken out. I was just wondering if it's possible to lay lumber and then sand and stain?
By jdelmart from Crosby, TX
Answers

Cyinda
Bronze Post Medal for All Time! 213 Posts
June 23, 2009
0

found this helpful
Best Answer
I have a raw plywood floor in my craft room that's an add-on to my mobile home. I've had great success with using stick-on vinyl floor squares from the dollar store & sticking them to the plywood. You can buy them at Dollar Tree or order them from their web site by the case. You get 3 for $1 & they are 12" x 12"... So you can do 30 square feet for $10. I heated them up with a blow dryer or heat gun after they were stuck down then rubbed a soft towel over them & pressed down at the same time to make the glue on the back stick even better. By the time, money & energy you put into sanding & staining the plywood you could cover the plywood with these easy-to-apply vinyl floor tiles. The ones I chose are VERY classy looking & looked like wood in 3 different shades with a diamond shape weaving behind another shade of "wood"... In fact everyone thinks that these stick-on vinyl tiles are REAL wood! Dollar Tree has 8 or so designs to choose from & all are nice. If you need the squ number to order them I can find mine. They also sell these stick-on vinyl tiles at Home Depot but they cost 2 for $1 instead of 3 for $1. Also look at liquidation stores!
Another way you could go is to lay down vinyl flooring that looks like hardwood... We did this in our kitchen before we sold our house & everyone thought the vinyl flooring was REAL hardwood (it looked just like it!)... It costs very little & is easy to clean & install which sanding & sealing plywood isn't! ...They have a brand that bends & is soft so it's MUCH easier to self install, unlike the older brands. In fact Armstrong will guarantee your self-installation if you spend $20 & also buy their installation directions & template... If you buy this kit along with your flooring & you make a mistake then THEY will pay for brand new flooring for you! ...This also comes in a hardwood wood or parquet look-a-like. We figured it would cost about $80 - $100 for a bedroom sized piece from Home Depot. But then you wouldn't have to rent the sander or buy 4 or 5 gallons of varathine to seal the plywood!
You can also buy used industrial carpeting that they take out of businesses for almost nothing (then they don't have to pay to take it to the dump!) This industrial carpeting can look like new & is so sturdy it lasts almost forever. Put a note up on Craig's List that you want some "like new" wall to wall industrial carpeting or call one of those places that takes the goodies out of buildings for recycling.
My friend had a plywood floor for years until they could afford real wood & she had the hardest time keeping it clean! If I was to do what you're thinking about, I would thin down a dark color of 100% acrylic paint in a color I liked (50-50 paint to water) then using a mop, I'd stain it with a color (like a dark emerald or olive green, med brown or indigo blue) & lastly, using a new mop, seal it with at least 2 or 3 coats of water-based varathine. Water-based doesn't last as long as oil-based & isn't as durable, but it dries quicker & isn't nearly as toxic. You can buy 100% Acrylic paint at Home Depot (not to be confused with Latex paint) Acrylic paint sticks better & lasts longer than Latex. A gallon is just under $20. For more details write me here on ThriftyFun. Remember, always use oil-based paint with oil-based sealer & water-based with water-based!
---> GOOD LUCK! <---

June 23, 2009
0

found this helpful
Best Answer
Yes indeedy, jmart. We went to a fancy/smancy Italian restaurant in the mall in the trendy section of Tampa, Fl. The floors and walls in the room they put us in (for a fancy b-day party with 100+ guests) were plywood! They were stained and sealed and glossed with polyurethane I presume. They had very large mirrors interspersed on the wall of the same plywood and chandeliers.. Breathtaking! Call a lumberyard and ask what products to use. I've already decided to one day redo the indoor outdoor carpet in our Fl room this way when we can afford to rip this old carpet out and buy the plywood and products to get this beautiful effect. I don't believe we will use large ornate mirrors and chandeliers though. LOL But to answer your question, Yes indeed! Good luck! Let us know if you do this and maybe include a pic of your new floors.

June 25, 2009
0

found this helpful
Best Answer
A few years ago, friends of mine redid their floors with plywood. They sanded it down, then started spreading several coats of varathane with a very soft material. Between each coat, they let dry, then sand lightly.
They chose not to use stain and let the natural pattern come through. It was so beautiful and a lot of work, but worth it. Good luck to you.

February 5, 2013
0

found this helpful
Best Answer
Yes plywood is a lot of work, but if you do a good job and get the right type of plywood. It should hold up for a while. Stay away from veneer plywood because the veneer is like a 64th of and inch thick and with wear off in no time.
Sanded plywood is nice looking and if sawed into planks can look almost like real wood flooring but not warp and move as much. Because of the make up of the layers of the plywood being turned 90 degrees in every other layer.
Answer

this Question

It is a 20 ft food trailer. When it was in operation it was used daily, permanent location. Heavy equipment, people working. There was never down time. We were fixing it as we went. When walking on the floor, some areas felt soft.
It is not used anymore. I am never wanting to it sell it. Since everything is closed, with social distancing it seems like the perfect time to correct the floor issue.
I removed all of the equipment, removed the old tiles, exposing the floor. It is in bad shape. There is lots of rot in the corners. There are no leaks. The rot is from when the trailer was in operation and water splashed from sinks and from washing the floor.
The plywood is 3/4" thick. The bottom of the plywood had a black water proofing material, (what is that )? I am ripping up the plywood and exposing the floor beams. I am not wanting to do this job again.
What is the best plywood? Oak? I am going to coat the plywood with water proofing. There is no sub floor, only wood over beams screwed in. The beams are 24 inches wide. There are no cross beams in the middle. I am assuming that if there were cross beams the floor would have had more strength. With the help of my steel fabricator friend we are adding more beams and cross beams.
I will be laying 3/4" pressure treated plywood covered with vinyl tiles. Since there is rot in a number of corners I am considering when installing it not using one long piece. I want to make a plywood border coming in from the outside beam to The first side beam approx. 10 inches, with one piece of ply wood in the middle. This way I only have to remove a few tiles and change sections rather than whole large pieces. Any other ideas would be appreciated.
Thank you.
Answers

poehere
Bronze Post Medal for All Time! 105 Posts
April 27, 2020
0

found this helpful
Best Answer
You are on the right track here. Adding more beams is the key when dong this one. If the tailer has so much use why not use OSB instead of Plywood? The OSB is a lot stronger than plywood and will hold up much better in the conditions you are describing. You need to consider that plywood is made from glued thin strips of wood veneer (called plies) that are layered at alternating 90-degree angles and placed in a hot press.
This can be damaged over time and you can have the same issues as you are having right now. The OSB wood is better suited for your needs because it is of over 50 layers of stands and it also absorbs less water. it sound like you need this wood in your work area because of the water you use in the trailer. I would do the work as you have planned but would suggest that you put down OSB instead of plywood.
haydemon
Gold Answer Medal for All Time! 617 Answers
May 4, 2020
0

found this helpful
Best Answer
absolutely insert more beams is a good idea.
The black waterproofing material is probably Flex Seal or Liquid Rubber waterproof sealant, the kind used on roofs. www.lowes.com/.../1000097854
I see here that for a subfloor your best bet is to use OSB or CDX plywood, which are wafers of pressed wood designed to be structural and withstand pressure and use. CDX is a bit rougher looking but more affordable and slightly less water resistant. www.hunker.com/.../what-type-of-plywood-to-use-for-a...
Answer

this Question