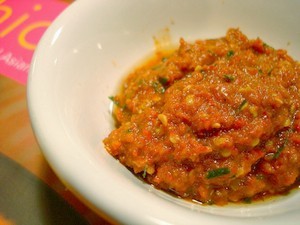 Also Known As:
Balachan, trassi, terasi, mam tom, Ngapi, Hom ha, Hay koh, bagoong alamang
Description:
Shrimp paste is small fermented shrimp used in many South East Asian cuisines. It usually comes in a solid brown block, but depending on the country of origin the shrimp paste can come in different varieties, sometimes found as a pale pinkish sauce. The smell is quite strong and can be unappetizing to those who are not used to it, but is cherished by many Asian countries.
Uses:
Shrimp paste is a staple in many South-East Asian cuisines and although the smell can be overpowering when raw it does become subtler when cooked. It is not made for immediate consumption and must be cooked before eaten.
Storage:
No need to refrigerate but it should be wrapped in tin foil in order to keep its odor contained.
Interesting Facts:
There are many different theories to the invention of shrimp paste, one of them being it was developed by fishermen who wanted to preserve their catch.