Using Tomato Paste
Solutions
Share on ThriftyFunThis guide contains the following solutions. Have something to add? Please share your solution!
I buy the larger, more economical can of tomato paste and then measure it out by tablespoons onto a wax paper lined cookie sheet. Freeze until solid and then put the tablespoons of tomato paste into a ziploc bag in your freezer. You'll always have tomato paste for your recipe and it's pre-measured and ready to go!
By Celinda from Pittsburgh, PA
After opening a fresh can of tomato paste, put whatever you don't use in a small freezer bag, press out the excess air, flatten it until about 1/8 inch thick, and seal. Once the paste is frozen, you can break off a piece whenever you need it.
By Ron from Cortez, CO
April 7, 2005
1

found this helpful
When adding a can of tomato paste to a recipe, open both ends of the can but remove only one. Then you can use the other lid to push the paste through cleanly, eliminating the need to scrape out the can. This technique works for canned pumpkin, jellied cranberries, etc.
By K. David
How to get all the tomato paste out of the can. Open both ends of can, with a can opener. Take one can end off. Push the other end down, all the way through the can. When tomato paste is out, remove the can lid.

Note: Always wash cans in hot soap and water before opening.

By Susan from Clinton, TN.
May 4, 2016
0

found this helpful
If you run out of tomato sauce you can substitute paste if you have that on hand. This is a guide about substituting tomato paste for tomato sauce.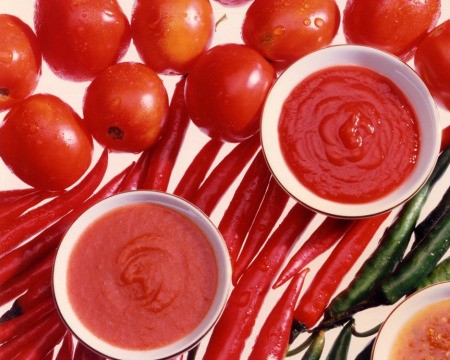 April 30, 2016
0

found this helpful
This is a guide about freezing tomato paste. Recipes often do not call for the use for full can of tomato paste, leaving leftovers.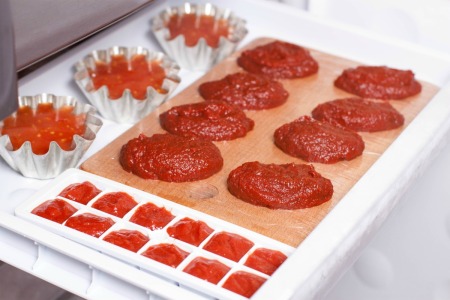 June 19, 2012
10

found this helpful
A few months ago, I was perusing new recipes to try and came across one where one of the ingredients stated "1 tablespoon Amore brand tomato paste from a tube." Tomato paste is available in a tube? Who knew such a thing existed? Well, I certainly had never heard of nor seen it so I began checking out where to find such a convenient item.
I originally found my nearest stores that carry the item by going to the Amore product link, clicking on the 'Where to Buy' button in the upper right hand corner of the web page and typing in my zip code:
Voila, two grocery stores within one mile of my home! I went to both to check out their price differences. In one store it was located in the fresh produce aisle. In the other, it was in the condiment aisle.
Yes, it's a little pricier than regular canned tomato paste but when you only need a tablespoon or two here and there, it's worth it. I say that because whenever I've stored the extra canned sauce (whether in a small glass or plastic container) in the refrigerator, it just seems to spoil far too quickly and end up throwing it away. 'll tell you that I've found the tube paste stays fresh for up to two months after opening when kept in the refrigerator because of the way it's packed, and all of it gets used!
If you haven't already, you simply must give tomato paste in a tube a try. I highly recommend the sun dried tomato paste that Amore offers! And if you're interested, Amore also offers garlic paste, anchovy paste, pesto paste and even hot pepper paste.
By Deeli from Richland, WA
Related Content