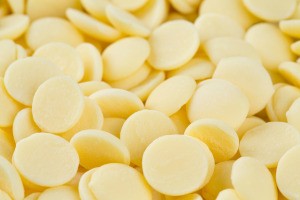 I had the opportunity to purchase several package of Wilton's Candy Melts from the craft store in milk chocolate, white, lemon flavors at a reduced price. Now I'm not sure how to bake with them. Can they be used like choc. chips etc. or are they more firm and less likely to melt. Any suggestions would be appreciated.
Thank you
Evie
Answers
By Sabrina (Guest Post)
August 13, 2004
0

found this helpful
Best Answer
The candy melts aren't really made to "bake" with. But there are tons of things you can do with them! First you need to know that they can be a little fussy...when you melt them either in a double boiler or in the microwave if they seem a bit thick do not use water or milk to thin them (it will cause them to seize and get clumpy) use a few drops of vegetable oil and that works great. When you melt them in the microwave be sure to stir them frequently...they will hold their shape and until you stir so you can burn them if you don't stir frequently. Anyway...use it to dip everything from oreos (the white chocolate is great for these)...pretzels (white and milk chocolate works well)...ritz crackers with peanutbutter in them (white and milk chocolate work for this)...strawberries (milk chocolate is great for this)...you can even dip potato chips! If you have ever used almond bark, you can use this in any of those applications. You can also purchase candy molds that you pour the melted chocolate into to make shaped chocolate pieces. Hope that helps...
Sabrina
By syd (Guest Post)
August 13, 2004
0

found this helpful
Best Answer
I'm with you on buying on SALE!
The only thing I have used them for is making suckers and candies, using the candy molds.
For a "senior" Halloween party, I made the pumpkins and bought some of the small ziplock bags at Wal-Mart and packaged several and put a computer generated message attached and put them in a large bowl.
You can do other holidays too!
By Tawnda (Guest Post)
August 14, 2004
0

found this helpful
Best Answer
I bet the lemon melted with sugar cookies dipped into them would be good! Or drizzle over the top. Lay your cookies on a cookie rack and drizzle the melted flavors over them. Easy and decorative for holiday, birthday, etc. You might even be able to freeze them, but you may want to check on that.
By Carla (Guest Post)
August 15, 2004
0

found this helpful
Best Answer
My friend uses them every year to cover Double-Stuffed Oreo cookies. First she melts the wafers according to the directions, inserts a lollipop stick in the center of the cookie, only going through the creme, then dunks the cookie in the melted chocolate. Once the chocolate has dried she decorates it with a different color of melted chocolate, drizzled or piped into words, and then lets that dry.
When they are ready she wraps them using cellophane lollipop bags that you get from the craft store and hands them out as gifts. The kids love them and they are very tasty!
By Joy (Guest Post)
November 14, 2007
0

found this helpful
Best Answer
Yes, by all means you can make bark. I take the big peppermint sticks available for about 59 cents around holiday time. Crush them and add to melted white chocolate wafers. (I melt my wafers in microwave at 60%, stirring every minute, until melted.) Then stir in crushed peppermint and spread out on cookie sheet that has been lined with waxed paper or baking parchment. Set in refrigerator until firm; break into pieces. Store in tin at room temp. Makes wonderful Xmas gift for teachers or neighbors if you package it in a tin or pretty mug. (As for amount of peppermint, it's hard to say; just stir in until it looks nice, but you don't want so much that you can't see the white chocolate either.) If you can't find the large peppermint sticks, you can crush candy canes; they're just smaller, so there's more unwrapping involved.
Also, you can use the milk or dark chocolate wafers for different kinds of nut bark. I use either almonds or walnuts and toast them to enhance flavor. Then add them to melted chocolate and proceed as for peppermint bark above. Amount of nuts is according to your personal preference.
The melted chocolate wafers make into wonderful nut clusters. Melt wafers, stir in peanuts, and pour into mini paper cupcake cups. (First place cups in mini cupcake pans or Wilton cup molds so they will hold their shape.)
Another nice bark-type candy made with white wafers is what I call white chocolate crunch. I stir in a combination of finely chopped peanuts and crushed pretzels, then spread out on lined pan as with bark above. (I get salted peanuts and unsalted pretzels, or vice versa, because if both are salted it's a bit much.)
By Shiela (Guest Post)
October 6, 2008
0

found this helpful
Best Answer
For Halloween, I use the orange melts.
Take mini pretzels and lay them on a cookie sheet.
put one orange melt on top. but them in the oven till the chocolate is soft and take them our. stick a black M&M in the center and them let cool.
I've done them for Christmas with green and red melts and used the opposite M&M or you can use the holliday sprinkles.
Everyone just loves them
Answer

this Question

Can I use Wilton icing color to make a custom color with Wilton melts?
By Carolyn Santos from Dallas, TX

Answers

January 23, 2011
0

found this helpful
Best Answer
I know they make "candy colors"; but I suspect you could use the paste colors. Try with a small amount of wafers in a small dish; if the colors you have cause the melted "chocolate" to sieze, then you'll know you have to use the candy colors.

Lewissan
Bronze Feedback Medal for All Time! 141 Feedbacks
December 16, 2015
0

found this helpful
Best Answer
The best way to make custom colored candy melts is to mix different colors together. Here's a chart that Wilton provides to create different shades. (Click the chart to see it bigger.)

Answer

this Question

I bought Wilton's Candy Melts last year. Is it still good today as the bag has not been opened yet?
By Elizabeth from Portland, OR

Answers

Vi Johnson
Silver Post Medal for All Time! 288 Posts
January 3, 2011
0

found this helpful
Best Answer
"You'll know if the candy melts are bad if they started to develop a dullness and are no longer shiny. " Quote taken from Wilton's Website . They also say even if they are melted during shipping and lose their shape, they are still O.K. to use.
GG Vi
Answer

this Question

I bought some white Wilton Candy Melts, but the store did not have any "candy flavoring". Can I use regular flavoring, maybe with a little oil? How can I flavor these? Please help, as soon as possible.
By Tracy Beaver from Statesville, NC
Answers

May 27, 2009
0

found this helpful
Best Answer
Use only the flavor oils that are sold under the Wilton name. If you use anything that is not an oil (for example, vanilla flavoring from grocery stores), you can't be sure that they do not contain some water. Water mixing with these melts will ruin the candy that you are working so hard to make! The oil flavors come in small bottles and you do not need to use more than a drop or 2 with each batch that you make. Good luck to you!
Answer

this Question