Using a Bicycle
Solutions
Share on ThriftyFunThis guide contains the following solutions. Have something to add? Please share your solution!
If you're tired of high gas prices and taking your car to the shop every time it breaks down Or you are tired of high insurance prices. Or if you are concerned about the Gulf Oil Spill and global warming. My solution is get a bicycle. Like anything else you purchase, do your research.
If you're looking for a standard they sell them at any big box store Wal-Mart, Miejer, Kmart, or Target every day. By standard I mean the road, mountain, and beach cruiser bikes you see on the streets.
If you are looking for comfort then recumbent bikes and trikes are the way to go. I own and ride an EZ 3 SX tricycle. Every time I let someone ride it around the parking lot or even just sit on it, they compliment me on how much more comfortable it is compared to a standard.
If you want to go camping with your bike, be it a standard or a recumbent, get a kid hauler. You can find them anywhere like the standard or the recumbent bikes. Put your camping gear in it and take off. You won't need the added worry of where to park your RV or travel trailer. You can just pull into a site and unload everything.
Ride safe! Wear a helmet, use turn signals, and a head light and tail light are almost a must for riding either on the road or the bike trail.
By bentcrazy39 from Springfield, OH
What I have done for years is be car free. I have been riding my recumbent tricycle almost everywhere I go. That is, unless it rains.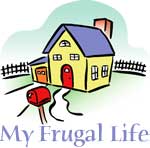 Then I either stay home or, if I'm out and see someone who works in a gas station, I ask them for one of their large 50 gallon trash bags and that becomes a poor man's poncho.
Like I said, I ride my recumbent trike every or almost everywhere. I've been as close as Buck Creek State Park and as far as Loveland, Ohio. For years what I've done is if I can, I pack my lunch for a small picnic on the bike path or go to the Buck Creek State Park and sit and eat, then come home. For hot (and I do mean HOT) weather, put some water in a soda bottle if you have them and freeze them. Put them in either a backpack or, if you have a water bottle cage, put one in the cage and keep one in the backpack.
What I've also done for years if you are tired of your back hurting from a standard mattress, purchase an air mattress. Just don't let your cat, dog or anyone who may have sharp objects sit on it. Oh and for patching it, use the patch that comes with it. Or buy a patch kit at Wal-Mart.
I've gone to a staycation place for years, not too thrifty but fun. The Greene Trails Cycling Classic: 4 days of nothing but riding your bicycle. If you are a roller blader or skater, you can join us crazy people who like to ride.
By bentcrazy39 from Springfield, OH
Do you have a frugal story to share with the ThriftyFun community? Submit your essay here: http://www.thriftyfun.com/post_myfrugallife.ldml
Here in Washington you have to endure rain for a significant part of the year. That means that outdoor activities tend to require tricks for keeping things at least a little bit dry. If you have to leave your bicycle parked outside, a grocery bag is a great way to keep the seat dry. Simply put the bag over the seat and tie the handles underneath to secure it.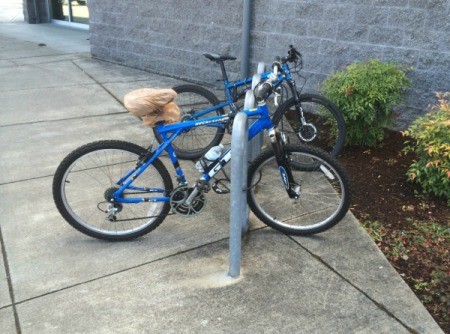 Bicycling glove tip for cold weather: If you bicycle in cold weather, instead of buying the warm bicycling gloves at around $50 per pair, I bought a pair of hunting gloves instead. They are very warm, not too bulky and have perfect grip for grabbing the brake handles on a bike. They are also bright orange so everyone can see your hand signals. They cost me $15.00 after I used my Rewards card from Shopko.
By Lawonna Patrick from Spokane, WA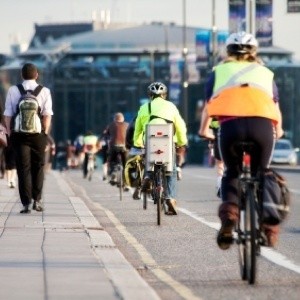 Whether you ride your bike to work, to school, or to the grocery store, biking is a safe, inexpensive and fun way to get around. It's also good for your waistline and the environment. Instead of giving up your car cold turkey, why not just strive to integrate a few more bicycling trips into your daily or weekly routine? Here are some simple steps to get you biking more and driving less.
Start Slowly
Build up your endurance. Start by biking around your neighborhood for a few hours to see how much you can handle physically. Before commuting by bicycle to work, start out driving part of the way and biking the rest, gradually increasing your distance each week. Bike part of the way. If your workplace is too far by bike, try biking to the nearest bus stop, subway, or train station.
Pre-Plan Your Route
Pick a route based on your comfort level (number of hills, traffic, etc.). Call your local city hall to see if the Transportation Department or Department of Parks and Recreation have a bike map. Many highlight bike lanes, bike paths, one-way streets, steep hills, and public transit stations. Plan your first trip to the store, school, or work for a day when you have extra time. This will help figure out how much time to allow for travel.
Follow the Rules of the Road
Always ride in the same direction as traffic and as close to the right-hand edge of the road as possible.
Look out for cars at cross streets, driveways and parking places.
Be careful when checking traffic and don't swerve when looking over your shoulder.
Always give pedestrians the right of way.
Never wear headphones, or earplugs in both ears.
Be visible! At night, attach a white LED safety light to the front of your bike or helmet (visible from 200 feet away), and to the back of your bike (visible from 500 feet away), and wear reflective clothing.
Follow the traffic signals and use hand signals when turning, switching lanes and stopping.
Be Prepared
Make sure your bike is in working order, especially the brakes.
Prepare for emergencies. If the weather turns dangerous or you have an unexpected mechanical breakdown you'll need to have a back-up plan for getting home. Most big city buses are equipped to haul bikes these days, so it's always a good idea to have a bus schedule and some spare tokens on you, or at least enough money for cab fare. For unexpected mechanical failures, members of Better World Club members receive 24-hour roadside assistance for their bikes, as well as their cars.
Dress for the weather. Invest in some good rain gear, gloves, and extra layers, to stay warm and dry. Above all, always wear a helmet.
Secure Your Cargo
There are endless types of equipment to make it easier to run errands and commute with cargo, such as shopping trolleys, racks that mount on a bike's back wheel, and trailers that attach behind the bike. When commuting with small children, invest in a child's bike trailer with seats, or a child-size seat that attaches to the back of your bicycle. Make sure they are equipped with helmets.
Related Content