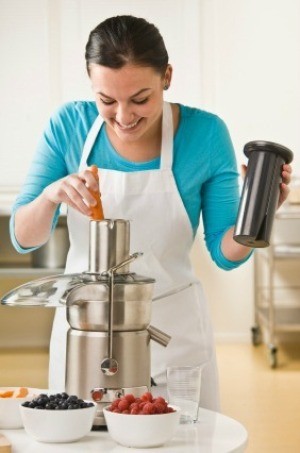 Do you have the same problem? "Buy one get one free" deals at the grocer sounds great but not if the produce goes to waste! A whole watermelon is tempting (and sometimes cheaper than buying wedges) but then, since there are only two of us, it doesn't get completely eaten and is thrown out. Salad greens, tomatoes and squash (especially if you have a garden or are given produce by friends/co-workers) are other produce destined to go into my composting pile.
My newest frugal and healthwise challenge is to reduce the waste of food, particularly produce while increasing my healthy produce intake. I recently have started juicing produce before it goes bad. It's great if you don't want the work (I'm basically lazy, heheh) of canning, freezing or dehydrating. I got my juicer at a yard sale for added savings!
The great part about juicing is that you and your family will get all the health value of those great mixed veggies and fruits. There are free recipes on the internet for juiced produce on Rebootyourlife.com and other great sites.
You can mix together produce (veggies and fruit) that you or your family love or ones you might not eat otherwise, like beets. It's great for weight control too! Drink concentrated vitamins instead of caloried 'diet' shakes and drinks. Filling and healthy.
You could even freeze the juice to add to other drinks for a healthy vitamin boost. Oranges for the cold season perhaps? You can also add them to soups, stews or sauces as a healthy bouillon. The creative choices for recipes are endless.
As a lifetime frugal person, I challenge myself to spend less, waste less and use less. What's good for me is good for my Earth. Our country wastes more food than other counties eat!
Cheers!
By Donna from Sterling, PA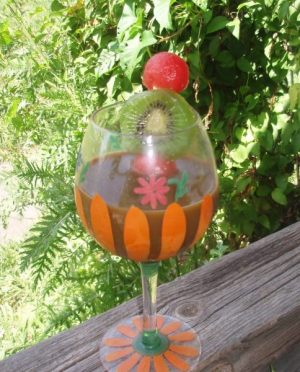 Read More

Comments
We go through a lot of juice because my husband makes his own wine. Friends give us their unwanted extra fruit. In order to get plenty of juice, we invested in a steam juicer. It is a large, three-tiered pot; really more like three pots in one.
Read More...
Has anyone used the Jack LaLanne's juicer? I am looking for a juicer that has a quiet operation and his infomercial claims this one is quiet. Please help before I purchase. Thanks.
By Onesummer
Answers
May 7, 2010
0

found this helpful
I enjoy my Jack LaLanne juicer; it is an excellent machine; easy to clean and store. And it performs just like the commercial states. You do have to peel citrus.
May 8, 2010
0

found this helpful
I also love my juicer. Mine is about 15 years old, still works like I bought it yesterday. Every kitchen appliance has a little noise-remember you are totally pulverizing fruits and vegies so of course there is going to be some sound to it. I say go for it-you won't be disappointed.
May 10, 2010
0

found this helpful
You still have to periodically clean the strainer, it's a pain!
May 11, 2010
0

found this helpful
I bought one, but am unhappy with the cleanup; it's not as easy as is portrayed on TV. I hardly use it at all any more. You might be better off getting a heavy-duty blender!
Answer

this Question
I have a power juicer and want to know if you can put pomegranates in the juicer?
By Barb from Columbia, MO

Answers
October 30, 2009
0

found this helpful
Yes, It can easily extract the juice of pomegranate without peeling. Its yield of pomegranate juice is 400 ml Juice from 1 Kg. fruit. good luck.
October 30, 2009
0

found this helpful
With all the little seeds, I would think the basket area is going to get clogged really fast. This happened to me when I tried to use the dark purple skinned grapes that had seeds. It became too much of a nuisance to have to constantly empty and clean it.
Answer

this Question