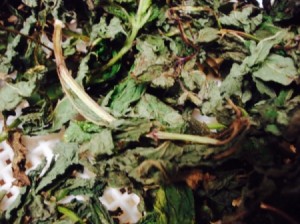 Using a microwave to turn your fresh herbs into dry herbs doesn't only speed up the process, it also secures a longer lasting, stronger flavour. You will also notice that they retain their natural, beautiful, vibrant colour. The microwave's nifty trick is that it targets only the water in the herb. When you air dry herbs for months, the flavour can evaporate with the water.
Simply spread out your herbs on a paper towel, cover with another paper towel, microwave on high for 1 minute, turn herbs over, then microwave again for about 30 seconds. That should be enough (microwave powers vary) but if it's not, give it another burst of 30. Just make sure not to burn them.
This example is with mint leaves. When a few sprigs are added to a teabag and steeped, you can enjoy the best, most vibrant mint tea ever. Enjoy!