Using a microwave to turn your fresh herbs into dry herbs doesn't only speed up the process, it also secures a longer lasting, stronger flavour. You will also notice that they retain their natural, beautiful, vibrant colour. The microwave's nifty trick is that it targets only the water in the herb. When you air dry herbs for months, the flavour can evaporate with the water.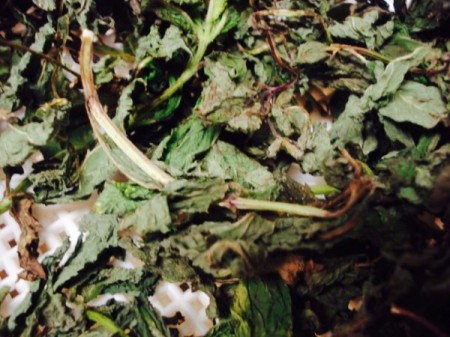 Simply spread out your herbs on a paper towel, cover with another paper towel, microwave on high for 1 minute, turn herbs over, then microwave again for about 30 seconds. That should be enough (microwave powers vary) but if it's not, give it another burst of 30. Just make sure not to burn them.
This example is with mint leaves. When a few sprigs are added to a teabag and steeped, you can enjoy the best, most vibrant mint tea ever. Enjoy!
Source: My mother
May 20, 2016
0

found this helpful
I started doing the microwave herb drying after seeing a UTube video last summer. I have a 1250 watt so I use 15 sec to 30 sec for drying. Tarragon being done right now. I found using a whole leaf of kale was 3 minutes..BUT do in 1 min x 2 and 30 sec till texture/dryness you want. Cool and pop into glass jars.
I do not use paper towels, they are too thick. I use coffee filters.. They dry within a minute or two, ready to go again. I use my kitchen cutting mats to put filters on, herbs on and then it. Like air pans for cookies, allows air to move within. If not sure if dry enough, set on counter 1 minute, they cool quickly. My garden, before spring planting, sprouted fantastic tarragon, over 3 ft tall. And decided to divide and move it, so took each spear away from core, stripped it and drying. Should have about 3 gallons dried when done.
August 7, 2016
0

found this helpful
boiling eggs in a microwave is not practical, ad they can, and most likely will, explode. you can scramble eggs in MW, but I find that teh outer edges get done, while the center does not cook as fast.
whole eggs would require piercing the shel and yolk, and you would not have a conventional hard boiled egg.
What I have found best for hard cooked eggs, is to let tem sit till they are at room temperature, then place in small suacepan and fill the pan to 2/3, then turn on burner, bring to a boil, then turn off burner and cover. remove from burner if electric stove. Let sit for 15 minutes, the eggs will cook to perfection. then run cool water into the pot, to cool the eggs.
Then peel and use as desired.
You will find that the yolks will stay yellow, and not turn green the way they usually do if you boil them for 5 to 10 minutes.
You also save gas or electric by cooking them this way.
The eggs continue to cook because the water is so hot.