EllenB
Gold Post Medal for All Time! 858 Posts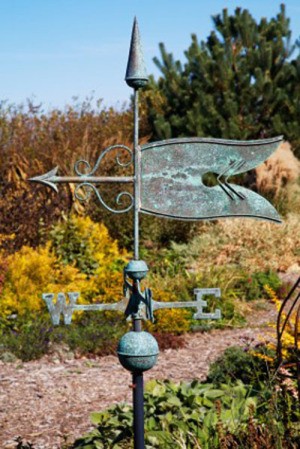 Since ancient times, weathervanes have been used to help understand and forecast the weather. Today, they are a fun and functional way to bring a personal touch to your home and garden. Whether you choose a weathervane that depicts traditional old world style, or a whimsical design that reflects your personal interests, a weathervane is a great way to make an eye-catching statement.
Choosing A Garden Weather Vane
When you pick a weathervane for your garden, it should be made of a material that complements your garden, and have a design that fits your style.
Style: From dog breeds and birds in flight, to farm animals, ships and mythological creatures, you can find a weathervane for just about any garden theme. Copper weathervanes are popular, because with each passing year the copper gathers more patina and giving them a look of old-world charm. Other common materials include painted or unpainted steel, aluminum, and vinyl.
Size: One of the most important things to consider when selecting a weathervane for your garden is the size. Will it be mounted on a post in the ground, or adorn the top of your garden shed? In either case, keep in mind that weathervanes appear smaller in size as you move away from them. As a general rule, roof mounted weathervanes tend to be larger in size than those mounted closer to the ground.
Cupolas: Most "garden" weathervanes are designed to be mounted on a post and stuck into the ground. If you plan to mount your weathervane on top of a roof, the addition of a cupola can really make it stand out. Years ago, cupolas were designed to ventilate and provide light to barns and other buildings. Today they are primarily used to as "roof jewels", a rustic accent to compliment homes and weathervanes.
Wind cup weathervanes: This style of weathervane has small wind cups located between the ornamental figure and the directional arrows that spin around freely even in the slightest breeze. With a wind cup weathervane, you get a lot of movement. You can not only see which direction the wind is blowing, but also how hard it is blowing.
Placing a Weathervane in Your Garden
If your weathervane is purely for decorative purposes, place it anywhere in the garden where you think it will achieve the best affect. A height of slightly above eye level will allow you to see it easily, but without the strain of constantly looking up. If you want your weathervane to be both ornamental and still obtain an accurate wind direction reading, you need to mount it well above the ground (at least 6 to 7 feet) and in an open area away from buildings, trees, and other objects which might interfere with the true direction of the wind.
Traditionally, cupolas are mounted on center at the peak of the roof. This can be a complicated project depending on your skills and the pitch of your roof, so follow manufacturers directions carefully.
What Wind Direction Says About Weather
Wind direction changes often accompany changes in the weather. Exactly what type of weather the wind brings depends a lot on what type of environment (ocean, desert, mountains, plains, etc.) exists in every direction near your location.
Wind from the south often means warmer, moister air is approaching.
Wind from the north often means cooler, dryer air is approaching.
When the wind changes abruptly it could be a passing front or signal an approaching storm.

I need an idea on where to place a weather vane. It is only a foot tall. It is not the kind that you put on your roof; it has a flat base. It falls over if I place it in the garden on the ground. I really need suggestions. Thanks.
By waitress from Brick, NJ
Answers

July 3, 2010
0

found this helpful
Not knowing how large the base is, I could suggest several options. Placing river rock around and on the base to help stablize it. Burying the base and putting rocks around the area that is buried. Putting in a post and mounting it to the top of the post with screws or gorilla glue.
That's all I can think of, maybe something will come to mind from those suggestions.
Good luck!

July 6, 2010
0

found this helpful
I would buy a yard timber and or a nice log and mount it to that so it is higher. Just bend over a good sized nail it a trio around the base if you can't put screws through it. A nice flower at the base, that kind of thing.
You could also glue it to a decorated paving stone, or do one of those make your own stepping stone kits and put the base of the weather vane into it.
Answer

this Question