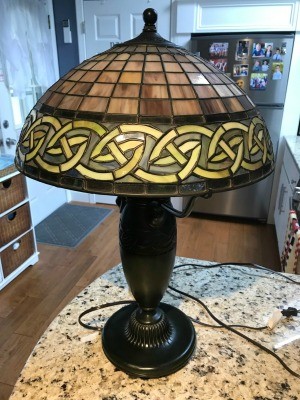 We are considering selling it, any idea of the value?

Answers

December 2, 2020
0

found this helpful
Best Answer
Your Quoizel Lamp shade is not in the same style as what people normally think of when they hear/see 'Tiffany' and (to me) the strong metal(?) base seems to make this lamp look a little on the 'masculine' side.
This may actually be a plus as some people may would like to have a stained glass lamp but do not necessarily care for the Tiffany colors/designs.
Here are a couple of examples of a 'different' style similar to yours so you can see the asking price that might one day be a 'current value' price if they sell.
www.etsy.com/.../arts-and-crafts-style-spectrum-slag...
www.etsy.com/.../vintage-missiontiffany-style-table...
I have not really found any of the Tiffany style lamps that have sold so placing a value is difficult. There are a lot of these lamps up for sale so I would have to say these are not very much in demand right now. It may be due to the overall financial condition of the country and many people are just not in a position to purchase very many non-essential items at this time. Many are trying to sell items like this instead of buying more.
It may be a better idea if you could hold on to your lamp for a few months to see if the market changes for the better.
Be very sure if you post your lamp for sale to consider the amount of money this item will cost to ship. I would recommend having it packed by a professional.

Pghgirl40
Bronze Feedback Medal for All Time! 196 Feedbacks
December 3, 2020
0

found this helpful
Best Answer
This is a lovely piece. To me (I am a long time reseller) I suggested to maximize the value of the piece you have it sold through a local consignment store or if you have a real auction house in your area, see if they will sell it for you.
Three reasons--
1. you will get more eyes on it, which can get you maximum value. 2. You will get the value of the piece for your area because they will know what people in your town are willing to pay for a piece like this, and
3 this piece is very fragile and even as an experienced seller and packer, I don't do large breakable items any more, especially with the challenges that the USPS has with breakage and the high cost of all of the shipping methods.
Post back how your sale goes. Remember values are regional and supply and demand driven so if you are in a place where these lamps are a dime a dozen, it will drive the value down, vs a place where there is a super high demand and very little supply, which drives the value up!

poehere
Bronze Post Medal for All Time! 105 Posts
December 1, 2020
0

found this helpful
The lamps are variously priced on eBay. The lowest price range from $124 to $329. There are a few smaller ones that list for $25-50.
Most people are trying to sell their lamps in the $200 range right now.
www.ebay.com/.../bn_3215768

Ana
Bronze Post Medal for All Time! 140 Posts
December 2, 2020
0

found this helpful
This is a nice one, I have only seen similar ones like this one(Beautiful). This lamp is collectable ,and could range to upper $100's. Here is what Quoizel Lamps in New York charges for these beautiful lamps - www.quoizellightinglights.com/.../table-lamps.html?&p=categorypath.... - and for online sales - www.etsy.com/search?q=quiozel%20table%20lamps - You could also take lamp to a antique sale/ appraiser near you or online appraiser. https://www.justanswer.com
Answer

this Question