Vase Filler Ideas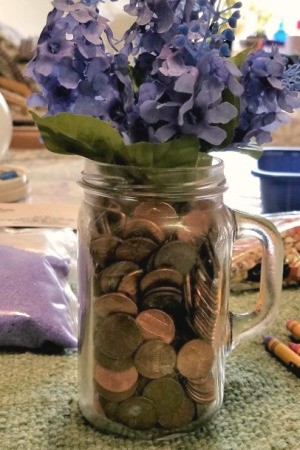 Vases can hold many other things besides fresh flowers. You can use a vase or jar to create a table decoration filled with marbles, stones, coins or dried beans. Top with fake or dried flowers, leaves or grasses. This is a page about
vase filler ideas
.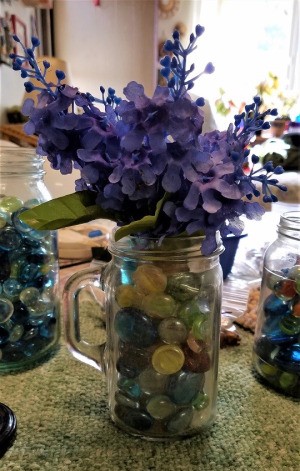 I saw a really cute idea at a store, but didn't want to buy it. So I snapped a photo and voilà! Mine took on a life of it's own, but ultimately morphed into many possible ends.
For the various "fillings", this is a labor intensive craft, but if you only pick one, it's super fast. You could even have a fun crafting party, and it's super fun for kids (you supervise the hot glue gun)!
Total Time: 2 hours for all 6
Yield: 1-6
Supplies:
vase, needs to have a wide mouth
glue gun
1 Toilet Paper tube
6 lb Fillers: sand, crayons, pennies, gravel, buttons, gems, rice, peas, etc. ($6.00)
4 faux flowers ($1.00)
scissors
wire cutters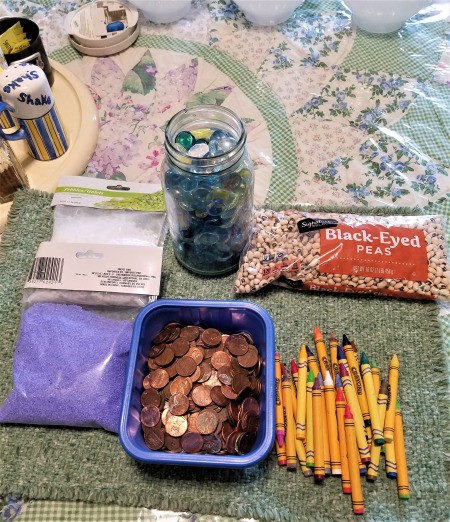 Steps:
The shot of the smallish jar with the green beads was the one that inspired all of these. First, cut the bottom of a tp tube into little 1/4" slits. You will need them splayed out so you can glue them to the bottom of the vase.

Put the glue on the bottoms of the notches, and press down into the center of the vase. I used a glass jar with a handle as I didn't have the other kinds. If you have the kind of vase that is straight up, like from the Dollar tree, it's much easier. But this was a "challenge accepted" kind of thing.

Now comes the fun part. I chose black eyed peas, rice, buttons, white gravel, pennies, beads, gems, and sand and went to town. If your items are small, and you don't have the straight up kind of jar, you might need some help from a small funnel.

I added gems and had fun with them. Then came the pennies. They were a challenge, but so very cool when done.

Black eyed peas just screamed fall flowers, so I went with them. Glass gems were almost left on the drawing board, as they were hard to get around the tube, but I persevered!

Rice was the funnel challenge. I was able to use the spoon as the rice kept getting clogged up in the funnel.

Buttons were fun, as sometimes I had to shake it up a bit to pack them in good. White rocks from the Dollar Tree were pretty, too, but a bit of a challenge as well.

And lastly, the toy sand is one of my favorites. It pours in the best using the funnel, and who doesn't love purple! I never got to use the crayons, as I didn't want to break them up to get them in the jar. N-JOY!!
Categories
Pages
More
Categories
Published by ThriftyFun.
© 1997-2022 by Cumuli, Inc. All Rights Reserved.
https://www.thriftyfun.com/Vase-Filler-Ideas.html