I'm in an apartment. Does anyone know what vegetables would grow well on a deck in pots? They would get a fair amount of sun. I'm planning for next year. Also, what are some frugal ways to accomplish it? Dollar store pots, etc. Do most farmer's markets have heirloom seeds? Any insights would be appreciated.
Hardiness Zone: 8b
Bethany from SC
Answers:
Vegetables For Potted Garden
Tomato plants grow very well in pots. Just make sure you have good soil and drainage. Good luck. (09/22/2008)

By Bobbielynn
Vegetables For Potted Garden
http://www.HomeschoolViewTube.com/video/61/Square-Foot-Garden (09/23/2008)

By mguess
Vegetables For Potted Garden
This is the best example I've seen for a method of vertical gardening which is ideal for apartments; I plan on doing it next year. Weight must be considered if you are not on the ground level, in which case I would keep my projects no more than two units (whatever you are using) high.
Go to newwork-newculture.net, which is written in Dutch, I believe, look on the upper left for projects, click, and find it a little lower on the page, complete with image of what is possible, as well as general directions in English. It's wonderful.
(09/23/2008)
By pikka
Vegetables For Potted Garden
Forgot something, sorry!

Link on left: project, then click: project in Sud-Africa.
Then click: neue Arbeit in Sudafrika, and scroll down to gardening image with guy next to it. You can see how much you can produce in a small space.
(09/23/2008)
By pikka
Vegetables For Potted Garden
I second the tomatoes. Do small ones- grape or cherry. Also looks cute with flowers in the same pot. Avoid carrots as they really need to be in the ground. (09/23/2008)

By J
Vegetables For Potted Garden
I had great success with cabbage plants. Use large pots and potting soil. Just water and feed with Miracle Grow occasionally. Good luck with your terrace garden. (09/23/2008)

By lillieK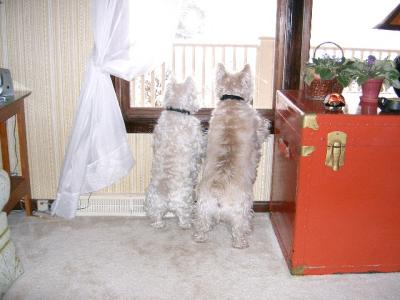 Vegetables For Potted Garden
My vegetable/herb garden currently has tomatoes, green peppers, eggplant, mint, sage, basil, rosemary, parsley and cucumbers. All did well except the cucumbers. In the spring and fall, I grow leaf lettuce. The pots I use are dollar store waste baskets with drainage holes drilled in the bottom. My dollar store had plant stands, so most of my pots are elevated off the deck. The rest are on bricks. Raising them slightly aids drainage. (09/23/2008)
By jean
Vegetables For Potted Garden
Invaluable resource book: The Bountiful Container by McGee and Stuckey. It answers all the questions and gives great ideas. Recipes too. (09/24/2008)

By JB
Vegetables For Potted Garden
I live in a second floor apartment, different country to you-Australia. But I think the same things would work. I'm also the supervisor of a small community garden project where we grow things in pots for people who have no yard/ garden to take home with them. Parsley, mint, rosemary, thyme, tomatoes, bell peppers, nasturtiums, Yes.. these plants are entirely edible, leaves can go in salads, and the flowers are pretty in orange, burgundy, cream etc. They are also completely edible, make a nice decoration on salad dishes, or on top of an iced cake. If you have big pots, and can rig up some sort of trellis, peas and broad beans also grow very well in pots. (09/24/2008)
By Ellie
Vegetables For Potted Garden
I grow bell peppers, eggplant, radishes, carrots, lettuce, herbs, beets, zucchini, peas, onions, beans, corn & even watermelon in containers. Look for the space saving seeds available like the "tom thumb" variety,"spacemaster" cucumber and the "Danver's half long" carrots. It also helps to research "companion planting" so you know what plants will compliment each other. I get those large rope handled tubs and I utilize the Native American "Three Sisters" approach by planting corn, pole beans to trellis up the corn stalks and then squash around the perimeter. They do great together.
Deep window boxes are great for radishes, onions, lettuce or beets. I've grown the tom thumb tomatoes in hanging baskets. As far as containers go, you can also drill drainage holes in old cooking pots, plastic file cabinets, storage totes...all kinds of things. Also check your local "freecycle" and craiglists sites to see if anyone is giving away any pots. I've found a bunch that way. I've had good luck with buying seeds online from Burpee but have found really good deals on ebay. Good Luck. I have a lot of fun with it and hope you do too.
(09/25/2008)
By abbey
Vegetables For Potted Garden
Hello, as for the veggies in potted garden; a thrifty way to collect seed is to take a few out of the tomatoes that you will have for a meal. I have done this and rinsed them off. Then let them dry and plant. They sprouted very well.
The same can be done for many vegetables that you use/purchase to make a meal, or from the vegetables out of your own garden. Seeds will not sprout if they have been cooked.
Many people put their tomatoes in five gallon pails. But be sure to give them good drainage. And don't use any that have had hazardous material in them.
Consider the potato tomato. This is done by putting a tomato seed in a pot with a potato. The roots to the tomato grow around the potato. According to my reading, when the tomatoes are done, you pull out the tomato and get your potatoes at the bottom.
Be aware there is a difference in the breed of tomatoes. Some produce tomatoes early, some produce a little later, and some produce most of the summer. While some breeds produce all at the same time, then they are done. Good luck with your garden.
(09/25/2008)
By Windgate