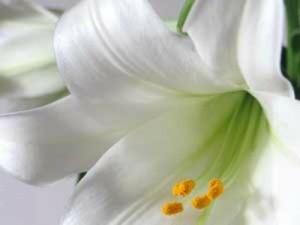 Next to Poinsettias, Easter lilies are perhaps the most recognized flower in the western world. Now that Easter's come and gone, there's no need for your lily to fade. With the proper care, and Easter lily can flower for a month or more before transplanting easily into the garden. Here's how to keep yours growing.
Extending Easter Lily Blooms
Remove the Anthers: As the flowers start to mature, remove the lily's yellow anthers before it starts to shed pollen. This will keep the petals white and give the flowers greater longevity.
Discard the Decorative Packaging: If your lily came in a paper or foil sleeve, remove it-preferably as soon as you get the plant home. Plants kept in these sleeves deteriorate faster and tend to get water logged.
Protect it From Bright Light: Lilies kept in direct sunlight are almost certain to die quickly. Place yours in a room full of natural daytime light, but keep it out of direct sunlight.
Keep it Cool: Daytime temperatures of around 60° to 65°F will keep flowers lasting longest. You can place the lily in a cooler room (such as a porch) at night or on the floor provided it's kept out of reach of pets. Avoid placing the plant near drafts or heating ducts.
Keep its Feet Moist (Not Wet): The soil should be kept lightly moist as long as your lily continues to flower. Check moisture levels daily in the morning. If the surface of the soil feels dry to the touch (just the surface), take the plant to the sink and give it water until the soil is completely saturated and water starts to drip through the drainage holes in the pot.
After the Flowers Fade
As flowers fade and petals start dropping off a stem, use a sharp pruning shears to trim the stem by lopping off the blossom. When all the flowers have been pruned, the lily should be moved into a room that has some morning sun and afternoon shade. Give it a balanced (20-20-20) half strength water-soluble fertilizer every two weeks to promote the growth of foliage.
Easter lilies can be grown indoors indefinitely, but it's difficult to get them to bloom a second time if they spend their time inside. As soon the weather warms, move the pots to a sunny location outdoors and begin to harden them off if you want to transplant them to the garden.
Transplanting Lilies Outdoors
After all danger of frost has passed, select a sunny location for transplanting your lily-one protected from the wind and in warm climates, protected from extreme heat. Make sure the soil contains plenty of organic nutrients, has a neutral to slightly alkaline pH and above all, it has good drainage. If necessary, create a raised bed area by mounding up the soil to ensure proper drainage.
Plant the bulbs 6 inches deep (3 inches below ground level if you mound up three more inches of topsoil), spacing each bulb 12 to 18 inches apart. Make sure to dig a hole wide and deep enough to allow sufficient spreading of all the roots. Work the soil around each bulb to eliminate air pockets. Cover them with soil and water thoroughly.
Lilies like their heads in the sun and their feet in the shade, so after planting, cover the soil around the lily with 2 inches of mulch or compost
New growth will start to emerge as the old stem dies back. You may get lucky and see a second bloom this season, otherwise be prepared to wait until next summer (or the right conditions).
Preparing Lilies for Winter
When stems turn brown and die back in the fall, cut them down to soil level. Apply generous layers of mulch over winter, removing it carefully in the spring as the new growth emerges. Fertilize new growth monthly with a balanced fertilizer applied at half strength, or apply a slow release once in the spring. Discontinue fertilizing when plants flower.
Lilies Can Be Deadly to Cats
Many species of lilies, including Easter lilies, are extremely toxic to cats-even in small doses. These include Easter lilies, Tiger lilies, Rubrum lilies, Japanese show lilies and Day lilies. Keep potted plants away from your cats and keep you cats away from the lilies you transplant outdoors. If you notice your cats eating lily leaves or stems, seek veterinary attention immediately.
I received an Easter lily as a present. I have looked for information on how to care for it indoors, but I keep seeing that after some time they have to be planted outside. I currently don't have any space to plant outside. How can I keep the Easter lily alive and well while keeping it inside in a pot?

Thanks
Hardiness Zone: 7a
By Isaura from Charleston, WV
Answers
April 9, 2010
0

found this helpful
One important note-- these are highly poisonous to cats (not sure about dogs). Many people don't know that so I thought I'd pass it along. Here's a link on lily care:
March 28, 2016
0

found this helpful
My easter lily was given to me as a present. I live in an apartment how can I keep my easter lily alive indoors
May 11, 2017
0

found this helpful
I have an Easter Lily I have has for 3yrs. now and it is living in a pot in my bathroom. It have morning sunshine and afternoon partly shaded. it is about 3feet tall and doing good. It has a lot of TLC but I water it when the soil feels dry about 1 in down inside the pot ( every other day). I give it no special care and it is doing just fine.
December 20, 2017
0

found this helpful
how do you stop an Easter from growing before it's time and to stop before it chokes out the second plant that is beginning to grow? The first one has grown so big that just has leaves and no flowers I live in an apartment, and don't have a place to plant it outside. It is still in its original pot. I need an answer quick! Thank you for understanding.
Answer

this Question

...