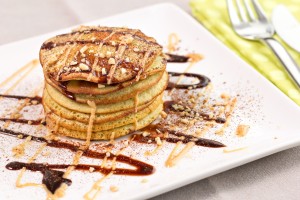 This is something I made for my New Years day breakfast. I just made it up. Very satisfying and rich! My husband doesn't have much of a sweet tooth, but loved these. Even if you don't like peanut butter, you will like these as you don't taste it too much.
Ingredients:
1 medium sized ripe banana
1 Tbsp. unsweetened natural peanut butter
1 1/2 cups non-dairy milk (I used almond vanilla) but feel free to use regular milk, if that's what you have.
1 cup all purpose flour
1/2 Tbsp. baking powder
Small handful of chocolate chips (maybe 1/4 cup or a few tbsps of the mini ones)
Directions:
Mix till well blended. Add the rest of the milk and mix well. Add flour, baking powder and chips and mix till just blended. Don't over-mix. On medium-low heat in a frying pan, drop batter in about 1/4 cup amounts and cook till bubbles form on top.
Turn over and cook for another minute. At this point you may have to lower the heat or they will cook too fast. I have a digital oven and I have it on 4.5. This will make 8-10 medium sized pancakes. Eat alone, with powdered sugar or with a little maple syrup. Yum!
*This is quite rich so feel free to omit the chips if you are not into sweet stuff so much.

Source: my own recipe. Edited from my blog at: http://thefrugalvegan.wordpress.com
By Lisa from Halifax, NS
If you are a peanut butter fan like I am, you will love these pancakes. They are silky smooth have just the right amount of peanuty goodness. They are rich, as well, so a little goes a long way. Any topping or syrup goes great with these. I like fruit and a touch of maple!