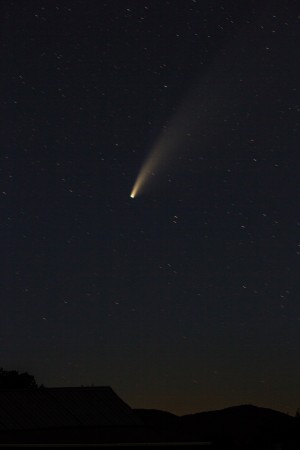 We have a rare opportunity to see the NEOWISE comet as it approaches Earth this July. It is viewable in the Northern Hemisphere about an hour after sunset now, although it was only visible before dawn a few days ago. Look to the northwest as the sky becomes fully dark. If you find the Big Dipper (Ursa Major), look below the dipper bowl. It will appear as a fuzzy star with a long tail for about an hour, as long as the sky is clear.
Light pollution can make it difficult to see the comet near cities without a telescope, binoculars or a good camera and tripod. We went to some farmland close to our area to get this picture, away from the city. This helps with pollution in the air too, which can also make the comet difficult to see. A national park or wilderness area would be a good choice, as long as there is a clearing facing northwest.
The comet is going to continue to fade as it moves farther away from the sun but it will move leftward and upward in the sky. The closest approach to our planet will be next Wednesday, July 22nd. After that, it should fade quickly as it continues on its outward journey, which will take 6,800 years before it is visible again.
If you are wondering about the unusual name, comets are usually named after the discoverer. In this case, it was discovered by the Near-Earth Object Wide-field Infrared Survey Explorer (NEOWISE), which is an infrared telescope in orbit surveying for comets, asteroids and other potentially dangerous objects near Earth. Check out this link from NASA if you wish to learn more about NEOWISE, the comet or the explorer.