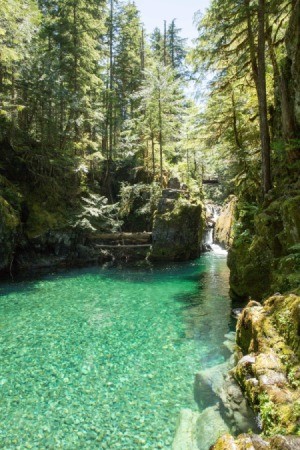 Last weekend, my family and I had the opportunity to hike in the Opal Creek Scenic Area and Wilderness. It is located east of Salem, in the Willamette National Forest. Opal Creek runs through thousands of acres of protected old growth forest, crisscrossed with over 30 miles of hiking trails. With its pristine lakes and waterfalls, it is a favorite destination for backpackers; but it can be just as fun as a (long) day trip from Salem or Portland. It took us about 45 minutes to drive from Lyons (where you leave Hwy 22) to the trailhead gate.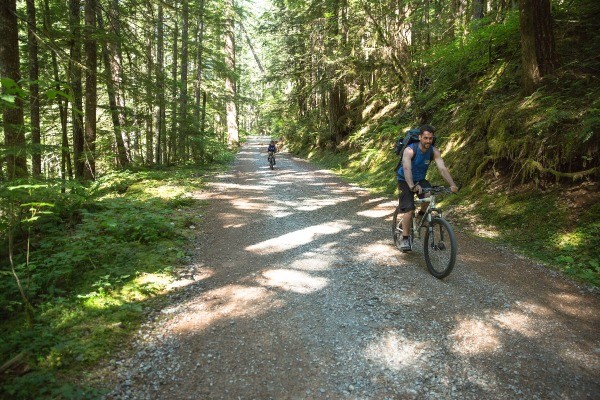 The trailhead starts on a gravel paved service road that leads to Jawbone Flats, an old mining town that is now home to the Opal Creek Ancient Forest Center. The path continues on this road for about two miles, through towering forest and decaying remnants of the area's mining and logging past.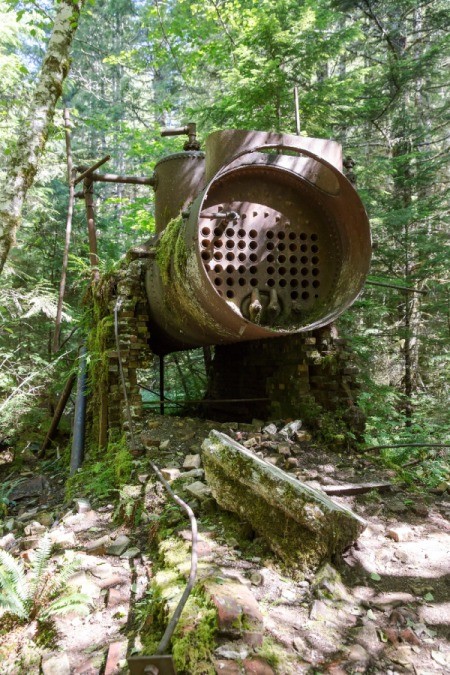 We didn't make it to Jawbone Flats and the visitor's center due to a road closure (a bridge was out). Instead, we crossed the bridge at Sawmill Falls (or Cascada de los Niños) to take the Opal Creek Trail (Kopetski #4187). This beautiful trail follows Opal Creek for about a mile before you reach Opal Pool. This is considered a moderate hike but none of our party had any trouble.
This narrow and steep trail was heavily traveled, probably due to the bridge closure. We would often step aside to allow other hikers (and their dogs) to pass. The tall and massive trees kept most of the hike in the shade. Around every bend, there was another majestic view of Opal Creek, with it's beautiful blue color.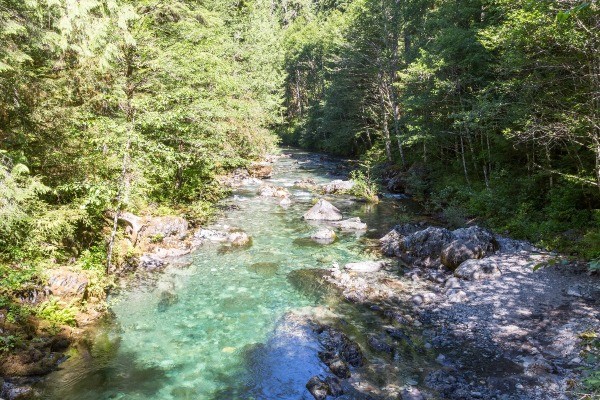 The end of our journey was the Opal Pool, which is clear, deep and bitingly cold. That didn't stop many people from jumping in. Unfortunately, we didn't stay too long because the flies around the pool were also biting. They loved our sweaty skin. I will definitely bring some sort of insect repellent on my next hike. The bridge which leads to Jawbone Flats is above the pool and the trail continues to Cedar Flats.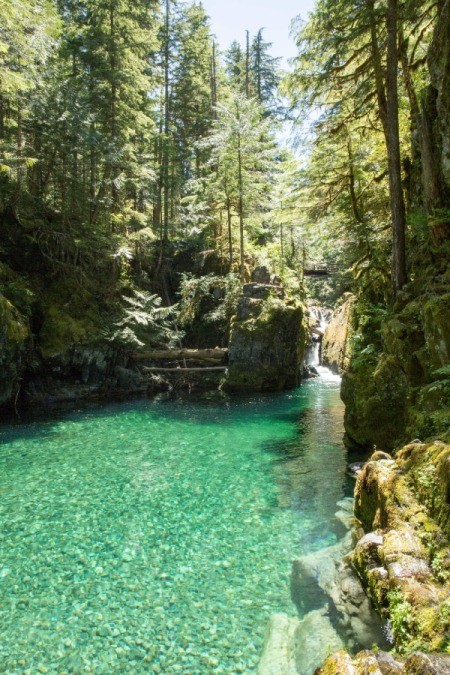 We ate our packed lunches on the cliff above the pool before heading back. There are also primitive campsites scattered around, usually a bit off the trail with a rock ring fireplace. Some of the further destinations in the Opal Creek Wilderness are too far to be easily reached in a day, so the sites could be used as a jumping off place. There are also rustic cabins available for weekend rental at the Opal Creek Ancient Forest Center.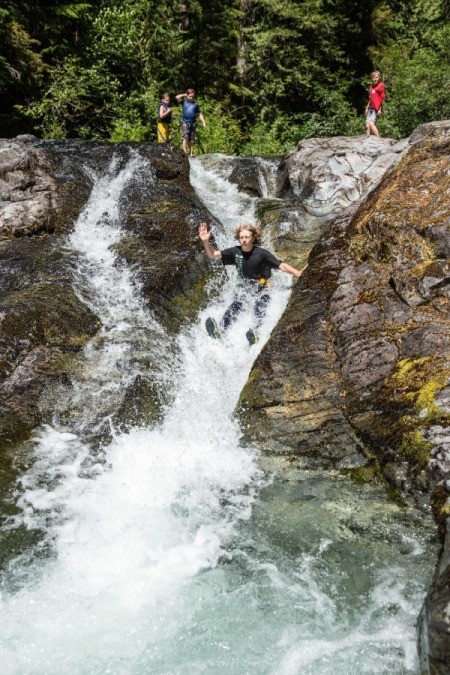 We had read about a natural water slide that was on Opal Creek, and we found it on our hike back. As it was a hot summer day, there were several people already enjoying the slide. It just might be the best place on the creek. Nearly everyone tried it, with the kids going down several times each.
We also refilled our bottles with the clear and cold water, which tasted sweet and pure. It is not recommended to drink water without purifying it when you are hiking, but we couldn't resist. It was so refreshing!
After hiking back to the bridge and service road, we stopped again at Sawmill Falls/Cascada de los Niños. There is a somewhat challenging climb down a rock face that juts out to bisect another ridiculously clear blue pool. The kids enjoyed climbing up and down the rocks while the adults just relaxed and enjoyed the view. It would be a great place to come and play in the water on a hot day.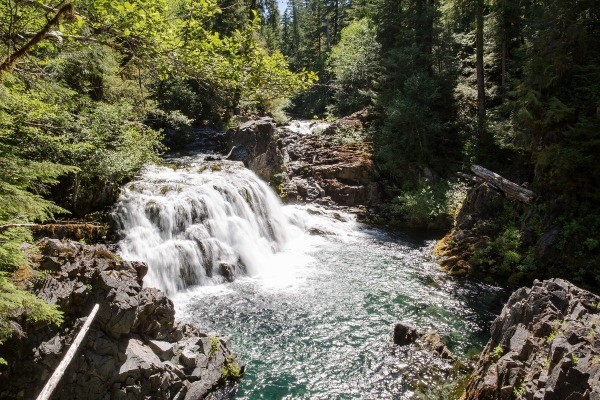 We finally herded all the kids out and finished the easy hike back to the car. All told, we spent about 7 hours there. My husband and I are already planning on coming back soon. We want to take one of the longer hikes, perhaps to Cedar Flats or Opal Lake. Or maybe we will just spend a lazy summer day playing around the Cascada de los Niños.
The U.S. Forest Service charges $5 for a day pass for the area, or you can buy one for $30 to use for the whole year. Plan to pack in things like sunscreen, a first aid kit, swimwear, insect repellent, food and, most importantly, water. There are no bathroom facilities after you leave the pit toilets at the trailhead, so you should plan accordingly. And there are also no trash cans, so be sure to pack it all out again.