Bandon, Oregon Frugal Travel Guide
Photos
Share on ThriftyFunCheck out these photos. Click at right to share your own photo in this guide.
At our new home in Bandon, my husband and I are lucky enough to be able to be in walking distance to pretty little Old Town, it's petite harbor, and even the beach!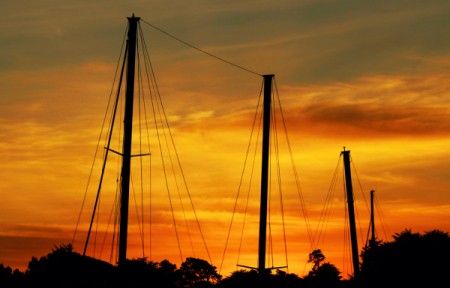 Read More...
Strolling down the shores of Beach Loop in Bandon, Oregon with my husband Brian the other night, I was amazed by the sheer power of the wind. Blowing so hard that we had to tuck our heads down and trudge slowly against it's never-ending gusts, we joked that it felt as if we were in the Arctic!
Sand swirling around us and waves crashing against the rock formations just-off shore, we felt as if we would freeze before we got to the other side of the famous Face Rock. I wanted to get to the other side before the sun set, to try to get a shot of the sun just above her mouth, as if she were drinking in the light.
When we finally reached a spot where the shore was dry enough to set down the tripod (in which my wonderful husband was kind enough to carry, even with the metal handle being SO cold), the sun was setting just behind her head. If you take a look at the rock behind the sun, you can make out a forehead, nose, open mouth, and chin - Face Rock. The colors were more than inspiring that evening and God set his sun to create a perfect halo above this lonely woman of the sea.
Our fingers were so frozen that we could hardly close our hands into fists as we made our way back to our car, but the sunset was more than worth the trip! These memories created during my photography adventures, mixed with the jaw-dropping sights God gives us during them, make my life all the better. As CS Lewis may put it, they're "unnecessary, like philosophy, like art. It has no survival value; rather it is one of those things that give value to survival." This is actually from a quote of his about friendship, but it makes me think of these journeys, as well.
Have a blessed week, everyone!
By Chelle152 from Coquille, OR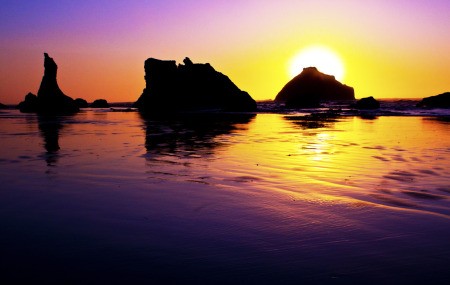 I was amazed by the colors and beauty of the night seen in this photograph and I just HAD to share it with all of you here on ThriftyFun. It was a completely unplanned shot, and it's become one of my favorites!
It all started when my friend, Chelsea, came out to have me take some shots for her in a modeling/portrait shoot on the beaches of Bandon. She's lived in Coos County for years and had never even seen Face Rock! So, I had her meet me at my place and my husband and I took her out to the Face Rock viewpoint, showed her the treasure there, and then proceeded down the steps to the other side of the shoreline, because I had areas down there in mind for her shots. We had a ton of fun and spent about two hours down there, just having a blast, her posing and me giving orders and taking shots. My poor husband always gets stuck hauling our stuff around, but he's a good sport about it! I just love him!
Anyway, when the sun had finally taken most of our light away, we decided to head back up the stairs and call it a night. When we reached the car, all three of us spotted the beauty we could only see from above; one of the most gorgeous, subtle sunsets any of us had ever seen! God really had taken out His paintbrush that night! I decided to pose Chelsea by the railing and make her stand really really still so I could take some shots of her with the fairy-tale like background. She was so cold, the poor thing, but she was quite the sport.
When her and my hubby finally retired to the car, I pointed my camera towards the sea for one final shot. It was too gorgeous to pass up trying to capture. And low and behold, with a hand from God, my camera caught it perfectly! I feel so blessed to have been given that opportunity!
It's sights like these that make me absolutely love living here on the Oregon Coast, more specifically in Bandon. It is a wonderful, quiet little town with the most amazing shorelines I have ever seen in photographs or in person. I truly do hope you all will get a chance to visit this lovely little place one day! And while you're here, feel free to look me up! I'm easy to find in a Google search and, if you send me an email, I'll help you find the best views on the Coast! I believe this beauty needs to be appreciated by all!
God bless, everyone, and thanks for viewing!
By Chelle152 from Coquille, Oregon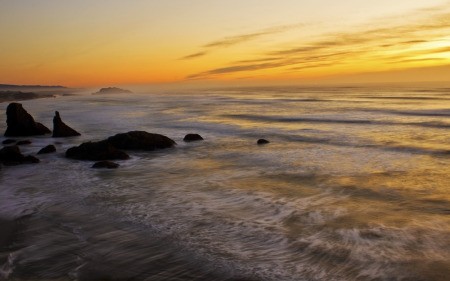 The sky was sunny and bright and my husband and I knew we didn't want to stay inside, so we decided to explore a "new" area! We hopped in the car and headed towards the little tourist town of Bandon, Oregon.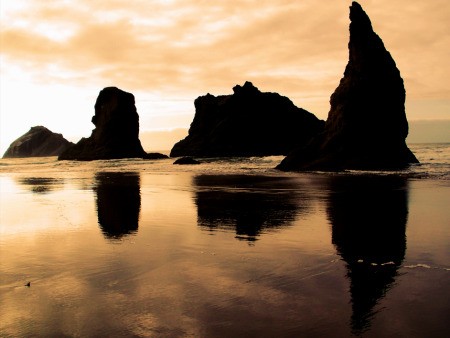 Read More...
I can still remember walking the beaches of the Oregon Coast with my husband, Brian, all those many nights on the Oregon Coast. If was my favorite place on earth during my favorite, most colorful hour.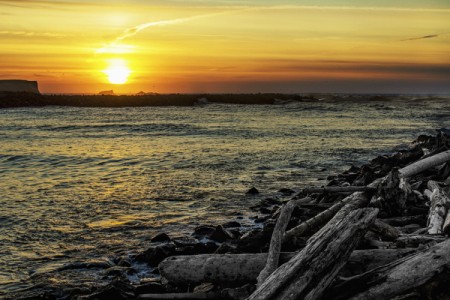 Read More...
About a month ago, my husband and I moved to the lovely little tourist town of Bandon, OR. We feel so blessed to be in our sweet little community, located only minutes from many beautiful beaches!
Being curious about our new area, we decided to head down to Beach Loop to pick a random view point, hike on down, and explore the shoreline.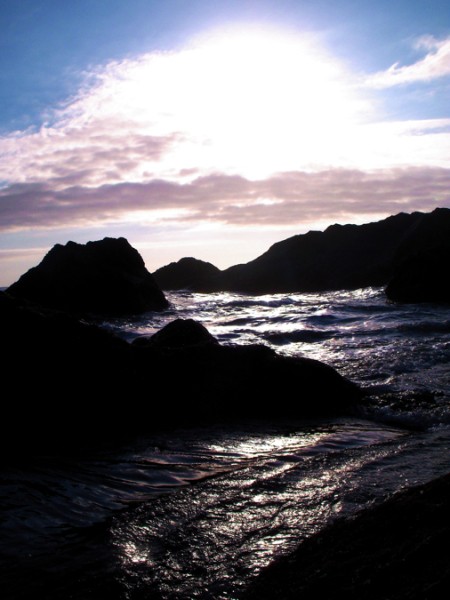 Read More...
Moving to Bandon, Oregon is the absolute best decision my husband and I have made in such a long time! Being less than 5 minutes away from the beach is even more fun than I imagined!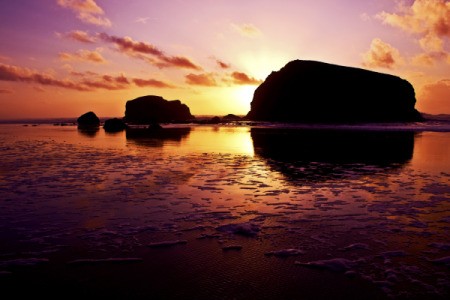 Read More...
Another beautiful sunset here on the Oregon Coast. This is on the shoreline leading to Elephant Rock, where the shape of the center of a long rock looks like an elephant and when the ocean gets wild enough the water sprays through, creating tusks.
Read More...
Related Content