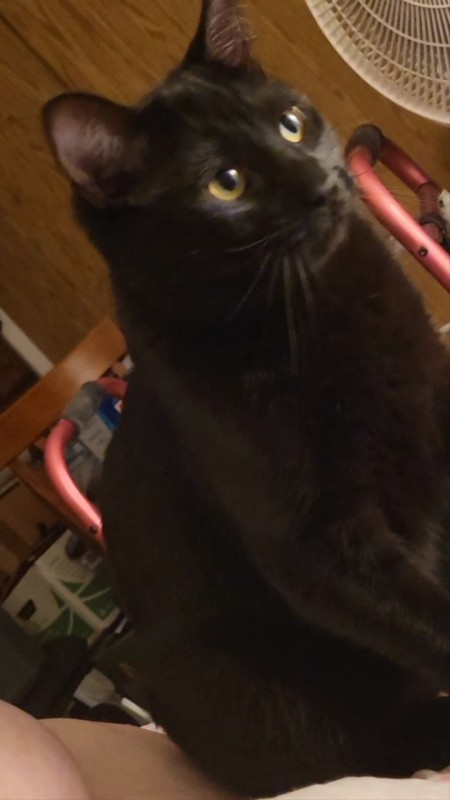 Your Pet's Age
WALL-E will be 1 year old in August 2022!
Your Pet's Breed
A little crazy little cat. He is a mixed breed.
How and when did you get your pet?
He is a rescue from a local humane society. My oldest son and my bff/ caregiver of 20+ years got him for me about 3 weeks before Christmas 2021. I lost my older gray ESA cat, Chinook in January 2021! I had given up on life when due to my 5th back surgery that has left me paraplegic and no Chinook
I was still in my skilled nursing rehab until February 10, 2021. I just didn't bounce back after losing my Chinook. Then came WALL-E (like the movie)! I was no longer wishing to live anymore. Well WALL-E had other plans for me. He is training as my ESA cat and doing quite as he is still a baby. So very smart and crazy at times. He saved my life instead of me saving his. He knows already how to come and calm me during my anxiety and panic attacks. So amazing! I love him so very much!
What does your pet like to do for fun?
Besides picking and annoying me for extra treats, he absolutely loves small furry little mice, prefers the ones that contain catnip. First time on catnip he was going up his cat tree, trying to hide them in his hammock, drops them and basically falling to to get them back , but he couldn't quite achieve that. I bet he run up and down that cat tree, 20 times that first night.He also love a red dot light! I use that at bedtime to wear down some of his energy. And lastly, he learned to play fetch from watch my caregiver's dog playing fetch. Next thing I know, he started with straw and then mice dropping it next to and I throw it.He would fetch it, brings it to me, and drops again. He loves fetch. We both have compensated playing differently due to my paralysis.
Do you have anything else to share about your pet?
In the beginning, I thought both of us were going to need anger management therapy. Lol! He has attitude and then some! I had to buy slippers that covers my feet, because he would grabbed them, biting and scratching, knowing I could not reach him. So one night I lost a slipper, and the next day, the other one disappeared. He took and hid them. So bought thick socks and he got a couple of those. Now, we are learning that mom has a spray bottle of water, and knows how to use it. Too smart for own good. He was using my walker to spin and play on. He is too heavy but he tries! Lol! He is awesome!
Add your voice! Click below to comment. ThriftyFun is powered by your wisdom!