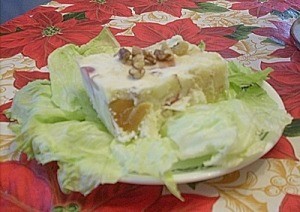 This salad tops any Waldorf salad I have ever made! It's got the taste of apple salad with a little extra. I saw the original recipe in a Taste of Home recipe book but tweaked it to suit my taste.
Ingredients:
1 can crushed pineapple (it calls for a 20 oz. can, but I used only half)
1 cup sugar
2 eggs, beaten
pinch of salt
1 cup diced celery
1 cup pecans (I use walnuts, it tends to have a better flavor)
2 apples, chopped
1 cup red grapes, washed and cut in half
2 bananas peeled and cut in small pieces
1 cup heavy whipping cream
Directions:
Drain pineapple, reserving the juice. Set pineapple aside, in a saucepan, combine juice with sugar, eggs, and salt. Cook, stirring constantly, over a medium-low heat until slightly thickened (don't get impatient, it takes a little while to start to thicken.) Remove from the heat: cool.
Add pineapple, celery, apples, grapes, bananas and walnuts and mix gently.
Whip cream until soft peaks form. Fold fruit mixture into whipped cream.
Pour into a 9 x 12 inch casserole dish and freeze until firm. Let stand about 15 minutes at room temperature before cutting and serving. Serve on a lettuce lined plate for an appealing salad.
Servings:
14
Time:
15 Minutes Preparation Time
15 Minutes Cooking Time
Source: Orginal recipe from "Taste of Home" No-Fuss freezer meals October 2008
By Jacque
This is a Weight Watchers 4 Points Plus+ Recipe.
Ingredients:
1/4 cup low fat plain yogurt
2 apples, diced
1/2 cup raisins
1/3 cup sliced celery
2 tbsp chopped toasted walnuts
lettuce leaves, optional
Directions:
Combine all ingredients except walnuts and lettuce leaves and toss well. Place on lettuce leaves if desired and garnish with walnuts.
Yield: 4 Servings
Serving Size: about 1 cup
Source: http://www.weight-watchers-points-plus-recipes.com
By Jim from Kansas City, KS
December 13, 2005
0

found this helpful
I'm looking for the recipe for Ruby Tuesday's Waldorf salad.

Thank you,

Martha from Saginaw, MI
Answers
December 13, 2005
0

found this helpful
Boy, if you find it, let me know!! I love their Waldorf Salad LOL
Thanks, B from West Virginia
By KLS8800 (Guest Post)
December 14, 2005
0

found this helpful
There is a site that has several restaurant chain recipes. It is www.topsecretrecipes.com. It may contain that recipe. I got my KFC cole slaw from there. KFC is the only place I know of that can make cole slaw that can come close to being as good as my grandmother's was. I think they change or rotate their recipes, so it may be in an archive or something. If that is a bust, try google.com Also, I don't know if it'd be a clone or not, but there are two CDs at Wal-Mart called One Million Recipes (both 9.99 each) near the microwaves.
(why they are THERE is beyond me, but in two WMs, one being a super WM, that is where I found them.) Those CDs have a lot of variations and different categories, diabetic, kid friendly, no bake, picnic, for all foods, not just salads, but soups, salsas, main dishes... and on and on. Or, why not just ask Ruby Tuesdays? Nothing ventured nothing gained. The worst that can happen is they say they cannot give out the recipe.
By martha saginaw (Guest Post)
December 15, 2005
0

found this helpful
we no longer have a ruby tuesday in our area.I have asked for the recipe when they were still open.I couldn't find a website for ruby tuesdays.i never heard of a cd with recipes,I'll check it out at walmart.thanks for help
April 6, 2006
0

found this helpful
Did you find the recipe for Ruby Tuesday's Waldorf Salad? I would appreciate that recipe or one very similar. Thanks, Yvonne
By SLIMER (Guest Post)
December 8, 2007
0

found this helpful
It is just mayo, vanilla extract, red delicious apples, diced celery, and walnuts, mixed together to desired taste and consistency, then chill.
By Kat (Guest Post)
April 1, 2008
0

found this helpful
The Waldorf salad that is at the Ruby Tuesdays in NC have at least 2 kinds of apples, dried cranberries, two kinds of nuts, celery, raisins and a wonderful dressing that I wish I could get the recipe for. If I ever figure it out Ill post it here.
By Heidi (Guest Post)
August 30, 2008
0

found this helpful
My husband and I love this salad. So, I asked the waitress one evening for the recipe and this is what she gave me: Enjoy!
apples
celery
pecans
dried cranberries
DRESSING:
3/4 - cup mayo
1 cup - sour cream
sugar
August 30, 2008
0

found this helpful
My husband and I love this salad so much that I asked the waitress one night if I could get the recipe. This is what she wrote down for me:
Apples
Celery
Pecans
Dried Cranberries
Dressing:
3/4 cup - Mayo
1 cup - Sour Cream
sugar
Enjoy!
By Carolyn (Guest Post)
September 17, 2008
0

found this helpful
Here's the recipe from Top Secret Recipes:
Ruby Tuesday Apple Salad
Mosey on over to the salad bar at Ruby Tuesday and you'll find this sweet, creamy apple salad somewhere down at the end. It's a simple recipe to clone with just nine ingredients, and it makes a great side for any casual cookout, picnic, reunion, or mandatory boring office party. Dried cranberries rehydrate to add notes of concentrated sweetness, and the celery and chopped pecans contribute extra crunch. You'll need two kinds of apples - one green and one red -just be sure to dice them into pieces that are about the size of almonds. Plan ahead on this one so that you can let the salad sit for several hours before you serve it. It tastes much better after a good fridge nap. This recipe yields enough for 6 servings, but it can easily be doubled or quadrupled to fill more mouths.
Ingredients:
1/2 cup sour cream
1/2 cup mayonnaise
1/4 cup granulated sugar
1 1/2 teaspoons lemon juice
1 Granny Smith small apple, diced
1 Gala or Fuji small apple, diced
1/2 cup dried cranberries
1/3 cup chopped pecans (candied)
1/4 cup minced celery
Directions:
1. Combine sour cream, mayonnaise, sugar, and lemon juice in a medium bowl and whisk until sugar has
dissolved.
2. Add remaining ingredients and stir. Store the salad in a sealed container in your refrigerator for 3 to 4 hours
before serving.
Makes 1 quart (6 servings).
By Juan (Guest Post)
December 28, 2008
0

found this helpful
Hey, I work there. I make this stuff everyday.
2 Quarts of Waldorf Salad
10 oz. Red Apple
5 oz. Green Apple
6 oz. diced celery
3 oz. dried cranberries
3 oz. honey roasted pecans (recently removed)
1/4 cup sugar
1 cup sour cream
1 cup mayonnaise
Basic recipe, you can make it to your own taste.
Answer

this Question

...