I just finished helping a friend wallpaper a bathroom and in all my years I don't think I've ever seen a more unique type of paper anywhere. She got the idea from a Lowes store.

Insted of hanging wallpaper in strips you tear pieces out of the paper and you hang it piece by piece until you've covered the wall. No design just torn pieces. She used a tan and white design that had script writing that resembled pages from a journal. This gives a nice textured look.

At the top and around trim you use the straight edge, so there's no trimming or cutting, perfect trimmed edges. You probably wouldn't want to try this with a floral print but a stone looking design or something similar to what she used. It was beautiful.

By Sharon Shearer
April 6, 2005
0

found this helpful
My daughter ran out of a wallpaper border she was putting up in her dining room. she was only about 4 feet short instead of buying another package,which was expensive, I copied the border using my copy machine and a good grade of paper. When it was on the wall you could not tell the difference.
By Sally Jo
As I am a new member I would like to say hello to everybody....and my name is Tommy and I live in Glasgow. My hobbies are Outdoor Bowls, Snooker,and Computers. But I have a decorating problem that I can't seem to solve.
Just recently I removed a gas fire from my living room wall. But now I am left with a gap in my wallpaper of about (25 in x 21 in) which I have to blend in with the exact same wallpaper.
But the problem I have is I can't get this wallpaper anywhere, as I am led to believe it has been discontinued.
And there is no way I am going to go through the experience of repapering my whole livingroom, for a small gap.
I have very little information on my original wallpaper, but I have took a photo of it...which I will sent for posting with this request. I am willing to pay for the paper and postage if anybody has any lying around or any info on where I can get it.
I was thinking of just putting and item in front of the gap,but my wife does not want that.
Hope somebody can help once they have seen my wallpaper photo. The wallpaper in question is a thick plain white patterned wallpaper and I think they call it a CLASSIC FRESCO?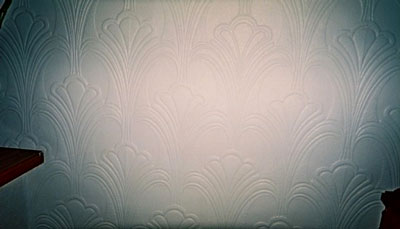 Thanks in advance
Tommy from Glasgow
Answers
By (Guest Post)
July 12, 2005
0

found this helpful
you can search discontinued wallpaper here: http://www.ihdg.com/default.asp
I used the middle search box to look for any white wall paper and used the search word embossed.
It turned up several pages of results.
They also have a "contact" form if you can't find what you are looking for http://www.ihdg.com/contact/ I would suggest sending them a link to your post here so they can see the picture and let you know if they have what you need. This is the direct link to the pic... http://www.thri llpapertommy.jpg
good luck!
July 13, 2005
0

found this helpful
Have you thought about rewallpapering or painting just one wall with something coordinating?
July 19, 2005
0

found this helpful
(sent in by email)
I would just like to thank everybody that helped with my request.
I am glad to say the problem has been solved.
Tommy
November 20, 2006
0

found this helpful
Go to the website Ask.com formally askjeeves.com and type in wallpaper and see what comes up for you to do research with. If that doesn't work,have no clue what to tell you,unless you check with a local antique dealer. Good luck
Answer

this Question

...
January 30, 2015
0

found this helpful
Our Trophy Park model trailer has wallpaper falling off and I see what looks like wood behind the wallpaper. Can I remove the rest of the wallpaper and put up new paper over the existing wood?
By Chris
Answers
February 1, 2015
0

found this helpful
I don't see why not. If the wallpaper is falling off, it should be easy to take it down. However, you should inquire at the store where you get the wallpaper for information about how to apply wallpaper over the wallboard in your home. Some types may have a waxy or oily finish that you need to deal with before you apply the wallpaper. I suspect the previous "decorators" didn't do this, and that is why the present wallpaper is falling off. I personally don't know what it is that you swab the wall down with, but perhaps someone else on this site will.
Answer

this Question

...