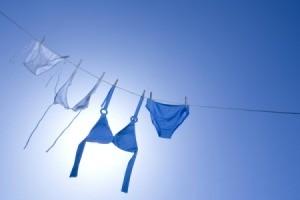 We have found that when people use our hot tub, we often get too many bubbles. We have solved this by only allowing bathing suits that have been washed without soap. However, I would like to wash our bathing suits and I need an alternative to laundry soap. Please help!
Tori
Answers

January 31, 2005
0

found this helpful
We also have a hot tub. I don't bother washing our bathing suits, I let the chlorine in the tub "sterilize" them. Besides, since we go in the tub just about every day, the bathing suit would be "dirty" the next day again. We used to rinse the bathing suit after each tubbing but now we just hang them to dry. Yes, the trunks and bathing suits probably won't last as long but after a year or two, it's time to get a new one anyways. (My daughter is a lifeguard and went through a lot of bathing suits because of the high chlorine content in the public pools).
As for the bubbles in the tub after a lot of people have been over...the bubbles are not only from the laundry detergent in the bathing suits, they are from the hair products (shampoos, conditioners, and hairsprays) in the girls' hair and dead skin cells from all those extra bodies that have been in the tub.
We have had MANY tubbing parties (I have 3 teenagers) and after each one I shock the pool and add Polysheen (the chemical that coagulates all the junk in the water into pieces big enough for my filter to grab as the water goes through the filter). I also, as I shock the tub, scoop out all the bubbles that form (because I have will have all the jets on high) with a clean dust pan. Less bubbles to go through the filter means a clean and clear tub sooner.
Don't you just love your hot tub? We sure do. It is wonderful for all those aches and pains and is a great "thing" to do for an activity for the teenagers...good clean fun.

Jo Bodey
Bronze Feedback Medal for All Time! 104 Feedbacks
February 1, 2005
0

found this helpful
Plain water! These items are not 'dirty' per se - they just need the chemicals rinsing out. In fact I do all my washing in plain water except for heavily soiled or stained items, which I pre soak in nappy soaker then wash in plain water.
Regards
Jo

February 24, 2005
0

found this helpful
Vinegar OR baking soda in the wash with them. Non sudsing and great cleaners to boot! You'll also want to try double rinsing them Wash and rinse and then run a second time with no soap!
By OttawaLifeguard (Guest Post)
August 6, 2006
0

found this helpful
Hey Tori, I am a lifeguard in Ottawa, Ontario, CND. I find the same problem with the hot tub at my work! people with soap in their suit leave bubbles and clog filters. You can buy specialized bathing suit cleaner (I usually find it online, unless I go to the Speedo factory in Montreal Quebec. This strips the bathing suits of chlorine, so the suit will last, but it doesn't leave a residue on the suit.
It is also gentle to skin, so you can use it on kids suits too! Try a website such as swim2000.com, you can order it there. The speedo one is awesome and 7.99 a bottle. The more generic one is about 5 a bottle and works wonders also!
By Joanne (Guest Post)
August 10, 2006
0

found this helpful
Activewear Mate
By bduns (Guest Post)
December 5, 2006
0

found this helpful
I was puzzled for a long time as to why my hot tub kept getting bubbles in it before someone said "oh, it's from soap in you suits." But anyway, get a swim suit specific cleaner from some place like SwimOutlet.com. I pretty much get all of my swim gear online from this place, and haven't regretted it once.
Answer

this Question
After you wash your women's bathing suits, how do you keep the top (bra) to keep the shape and keep from becoming deformed?

Peg from Tex

Answers
By Mary (Guest Post)
March 6, 2005
0

found this helpful
Wash bathing suits by hand in cold water and hang to dry. Using the dryer can alter the shape of the bra and make the suit wear out quicker.
Answer

this Question