Ana
Bronze Post Medal for All Time! 140 Posts
April 10, 2020
0

found this helpful
It will sprout back, but will never be the same as before. Often depending on the cut, the stump gets a little sick from this , and may take more time to recuperate from this cut down!

Pghgirl40
Bronze Feedback Medal for All Time! 196 Feedbacks
April 10, 2020
0

found this helpful
So I am assuming suckers and runners are the same thing--where you get a baby tree sprout when you cut a tree down that appear all over your yard--anywhere were there were roots? We call them runners--so if this is the same thing then what I can tell you is this does happen sometimes.
I am not sure why sometimes they do and sometimes they don't. The only way to get them to stop is if you remove the stump completely and dig up the roots.
Maybe other people here have better ways to make the runners stop. This is the only thing that worked for us.

April 12, 2020
0

found this helpful
I do not believe it will 'sprout' back from the actual trunk but runners or suckers may appear from the sides/roots.
A sucker may grow tall but I do not believe it will ever produce a true tree but I could be wrong. Some say you can cut a sucker and plant it and grow a nice tree but I have not seen this happen.
Here are comments from others:
"Cherry trees grow shoots from the base of the trunk, often referred to as suckers. These suckers can be cut off at the base and will easily grow roots and start growing a new tree.
The stump may well sprout new shoots, but the likelihood of them being the same as what was on top is very low."

poehere
Bronze Post Medal for All Time! 105 Posts
April 13, 2020
0

found this helpful
Recently we had to cut down one of our large food bearing trees in the yard because it was right on the property line and our neighbor wanted to put up a fence. After this we have tons of sprouts coming from the root base of the tree. This is actually how the tree was grown in the first place. The other tree we cut down was starting to rot and needed to be removed because it was dangerous.
The root base of the tree sprouted other small trees from the roots and we allowed one of them to grow again. The other ones we removed. So this should grow again from the sprout that is coming from the roots of the tree.

April 14, 2020
0

found this helpful
In my experience, it will probably grow back, unless you removed the root structure. But be warned! Many weeping cherry trees have been grafted onto a more hearty trunk. The suckers that come up could be from that original tree and may not flower or have the airy weeping branches.
Here is the weeping cherry in my front yard. You can see how the trunk is very straight and then there is a knotty mess before the branches start. That is the graft. We get little suckers that grow near the trunk but they mostly get mowed down before they are big enough to be a problem.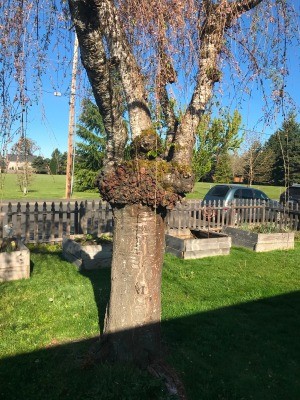 January 27, 2022
0

found this helpful
Jess - what did you do to the tree? I have one that is in really bad shape. Did you cut down all the branches down to the trunk and leave a couple of feet of trunk left Any pictures by any chance? Still trying to understand the options so any help most appreciated.
Thank you and stay safe.
Rich

January 28, 2022
0

found this helpful
Here is a picture of my tree right now. We have not yet trimmed it for spring and will probably leave it mostly alone until it flowers in March. Generally, we trim off anything I can reach from the ground and any branches that grow from the trunk or the lower part of the main branches.
You can see how we topped it many years ago. We picked 4 or 5 big branches that were shooting from the graft point and kept them. We cut off all the rest of the branches at the base, leaving a sad and barren looking tree.
We trimmed off the ends of the branches that were left and then left it alone for a few years. Although it looks sort of funny when we lose the leaves, it's beautiful most of the year.
You say your tree is in bad shape but don't say how. If it is healthy and just growing in weird directions, trimming could help you shape it. If it is not growing well, it might need better drainage or fertilizer or have a disease or insect infestation. Let me know how I can better advise you.
Good luck!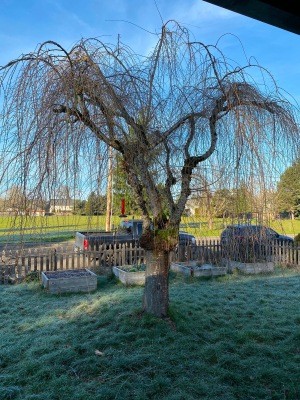 April 14, 2022
0

found this helpful
Hi Jess, I have a grafted weeping cherry tree that is about 13 years old and has always been healthy. It's only about 6 feet tall, the trunk part is straight and stout and the "weeping part" never grew tall but grew wide. That is fine, it's by our mailbox. This year I think the canopy has died? It has the little buds but they never opened and all of the branches are dried and crispy when I break one off. However, there are little sprouts all over the trunk. I understand the trunk is a different variety and the sprouts won't weep. My question is if you know if I can save the tree or should we just cut it down and dig up the roots?

April 14, 2022
0

found this helpful
That's so sad. Last year's heat and drought did a number on a couple of our trees and bushes, that might be the reason. I would trim off anything that is dead and anything that is growing out of the side of the trunk, or from the ground. Leave the sprouts that are pointing up and see how they fare. You can decide to take it out in a couple of years if it isn't blooming or is too unsightly.
If you do take it out, be sure to save the trunk for smoking or barbecue. Cherry and apple wood are both prized for cooking. We save all our larger branches when we trim. Just allow them to dry thoroughly before using.
You might want to check with your local library. They often have master gardeners that have times to answer questions.
Good luck, I hope it grows back and is beautiful again.