Growing a Weeping Cherry Tree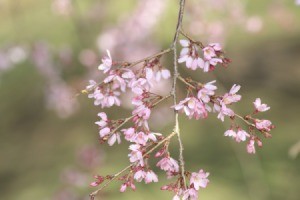 A popular ornamental fruit tree that is appreciated for its beautiful spring flowers. This guide is about
growing a weeping cherry tree
.
Solutions
Share on ThriftyFunThis guide contains the following solutions. Have something to add? Please share your solution!
June 17, 2017
0

found this helpful
These beautiful ornamentals are subject to damage and neglect that can put them in danger of dying. This is a guide about saving my weeping cherry tree.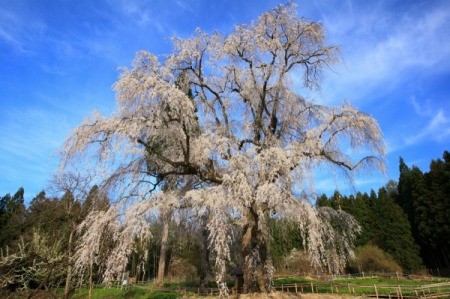 Questions
Ask a QuestionHere are the questions asked by community members. Read on to see the answers provided by the ThriftyFun community or ask a new question.
I planted a wheeping cherry tree in May and it had a few green leaves on it until about end of July. I water it as I should, but I'm concerned that it has died. Is there any way to tell if it's dead or should I wait it out? There's little green shoots on it so I'm not sure.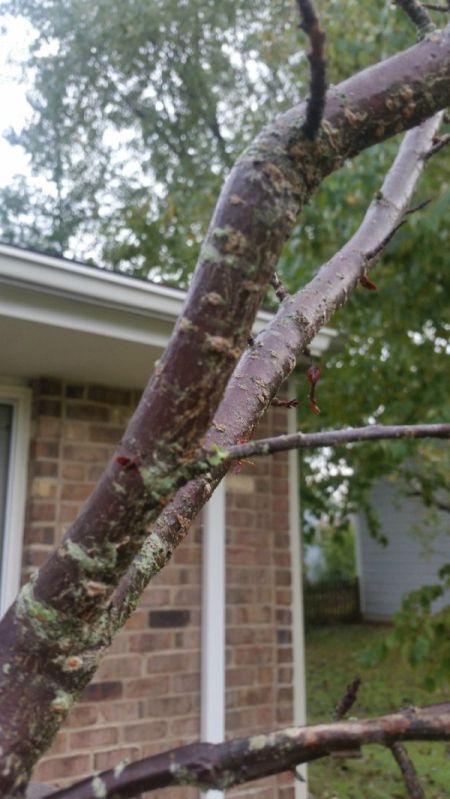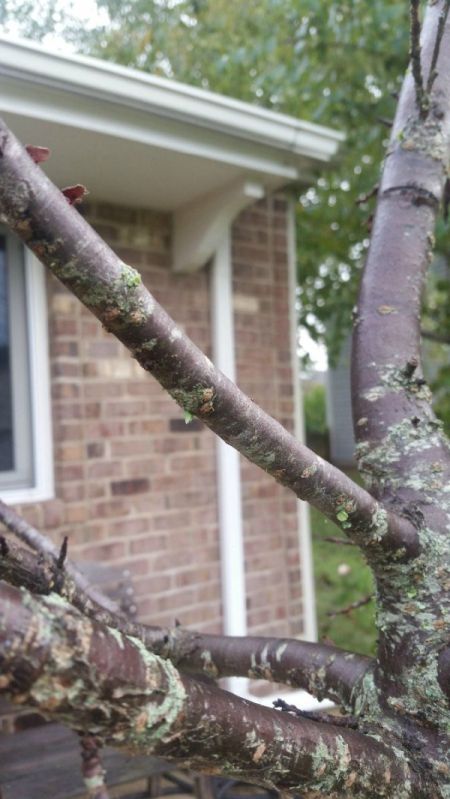 November 11, 2008
0

found this helpful
I'm a 'thrifty' person by habit, scavenging for seeds whenever possible. This gives me a wide variety of flowers, bushes, and trees to enjoy the following spring. However, this year I was trying to get seeds from a weeping cherry tree and couldn't see any seeds beneath the tree. Yet, just along the driveway edge (beneath the overhang of the cherry tree boughs) were a multitude of sprouts with leaves that look a great deal like those of the weeping cherry tree.

Is it possible that these sprouts are indeed the 'offspring' of the mature weeping cherry tree? I have looked on the Internet for some kind of information to help me identify these sprouts. But nothing I've read says that the tree throws it's seed and the sprouts grow beneath it all in one season. Have I happened upon a gold mine of weeping cherry trees, or, will I be the one weeping when these things mature into some huge ordinary tree?
Hardiness Zone: 5a
Verita from Mansfield, OH
November 11, 2008
0

found this helpful
Some trees spread by shoots coming off of the roots. That may be what you have. Can you post a picture of your tree?
November 11, 2008
0

found this helpful
I thought those weeping tree forms were grafted onto a tree trunk of upright type stock. Hey, just sprout it in a big container and if you don't like it, give it as a gift or toss it.
I live in Southern Indiana, climate zone 6b. I planted this beautiful tree on March 28, 2016. It bloomed beautifully! The hole was twice as big as the container and I mixed together 1/2 Miracle Gro potting soil with the dirt that came out of the hole. The second pic is May 3, 2016. On May 10 the tree was full of leaves and even had about 15 cool little cherries on it, until the birds ate them all! About two weeks ago the leaves started turning yellow then brown. Today, May 27, 2016, there are a few green wilted leaves left. I watered it well since it was put in the ground, (except during heavy rain days).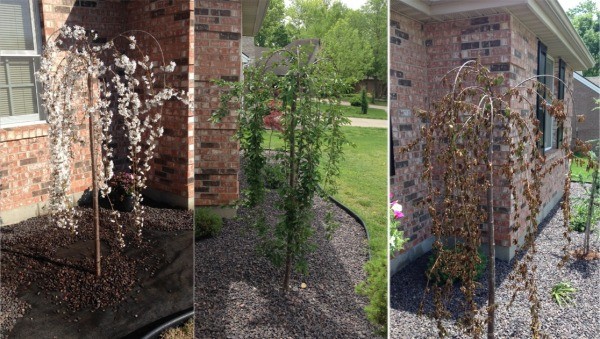 The rains here have been absolutely horrible. I believe it's been so wet it has drowned? I can bring it back to the store, but there are no nice ones left. This happened so fast! Is the tree dead? I don't think it could just 'keel over' like this. The tree is not as small as it looks, it was so vibrant and lively just two weeks ago. Is there anything I can do to bring it back from the 'hell' that it's in if it's not dead? Most all of the branches are not brittle and still bend. This was my 'center piece' in my new garden and I don't want to wait a year to see if it's a goner. Please help my poor little tree. :( The picture in the middle was just 14 days ago.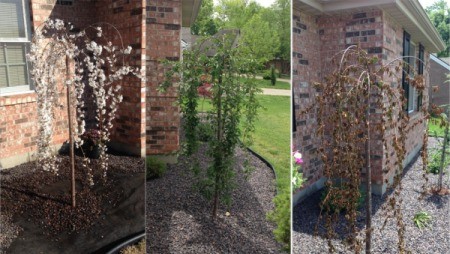 July 25, 2017
0

found this helpful
I personally don't think your tree is dead. I do think that you need to take the tree out of the ground and check the roots. You can plant this in a large container to bring it back to life. Afterwards, cut back all the branches to start new leaves growing on the tree.
Check the roots of your tree for ants. During a lot of rain ants can go underground and attack the roots of your plants. By uprooting this plant, checking the roots, and planting it in a pot should help.
I planted a weeping cherry tree 2 months ago. All the leaves fell off after planting. I have little shoots coming out at the bottom of the trunk but nothing but bare branches at the top. It looks almost like it is dead. Any suggestions for what to do? I don't want to lose it.
Hardiness Zone: 7a
By jean1501 from Beachwood, NJ
July 29, 2009
0

found this helpful
It probably is dead. If there are no buds on the branches its gone. Typically this kind of tree (ie weeping variety) is grafted onto a parent stock -- and the shoots coming from the base will be that parent stock and will not have the weeping habit. The parent tree may not be a cherry (although most likely) -- it could also be another member of the cherry or Prunus family.
If you only bought it two months ago, and from a reputable nursery they should be willing to exchange it or give you a credit. Most nurseries give a 1 year guarantee. Good Luck
Q:
I am curious to know how many seasons it will take for my Weeping Cherry to begin blooming. It was purchased as a seedling 6-7 months ago and it's being grown into a bonsai.
Steven Sullivan
Hardiness Zone: 8b
D_Mcpasterfield from Austin, Texas
A: D_Mcpasterfield,
I'm certainly no Bonsai master (although I'm a big admirer of the art), but in most cases, weeping cherry trees bloom by the age of 4 to 5 years old. That is, of course, assuming that their growing requirements have been met satisfactorily for the years leading up to their first bloom. Any number of environmental factors may work to slow down (or even speed up) this process. But even more so than environmental factors, genetics play a large role in determining when flowering trees first flower. Some trees, like some people, are "late bloomers." Growing a weeping cherry tree as a bonsai specimen is really no different than growing one in your backyard in terms of development. The only difference is that bonsai artists go to great lengths to control the size and shape of their trees. So the age at which your weeping cherry will bloom for the first time is dependant entirely on genetics and how well you meet its requirements for growth, independent of the bonsai conditions under which the tree is grown.
Ellen
April 28, 2006
0

found this helpful
I bought a weeping cherry tree last fall. It was problably 3 or 4 years old. Mine bloomed this spring and I believe it bloomed last year while it was in its pot.
I live in Northeastern PA.
Zone 5
March 29, 2015
0

found this helpful
What is the hardiness of the weeping cherry tree and will it grow in Colstrip Montana?
By Linda
July 22, 2014
0

found this helpful
Something is eating my little weeping cherry. What is a good pesticide?
By Chebai
June 21, 2014
0

found this helpful
I've had a weeping cherry for about 4 yrs. and it has done wonderfully. This spring was long and cold, it budded but did not blossom or produce any leaves, but branches still seem to be snappy.
By Chelly
August 11, 2013
0

found this helpful
On the base of my cherry tree which we have had planted for approx. 2 or 3 years is a bubbling of a sap substance. Is this OK? It's a Snow Mountain variety and very healthy.
By CAROL
Related Content