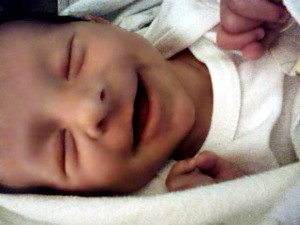 Mothers may have more intuition when it comes to this question. I'd like to hear from them. But on the other hand, just a good imagination might give us some insight. So, anyone with any ideas, feel free to answer.
Here, my great great niece is a mere 3 days old. Her world is so small. I would think her only concerns revolve around comfort; being fed, kept warm and clean, and her mother's soothing voice.
But such a broad and powerful smile. Surely, whatever initiated that larger than life happy face goes beyond a few creature comforts. She hasn't yet learned language so whatever she's feeling is without words.
What is this baby dreaming about that would cause such a big smile on her cute little face?