Every parent getting their child all settled in their new living facilities can be daunting and stricken with anxiety. However, it didn't occur to me or my husband or child, that after encasing the dorms mattress and spraying the room, she would begin getting massive welts or bites?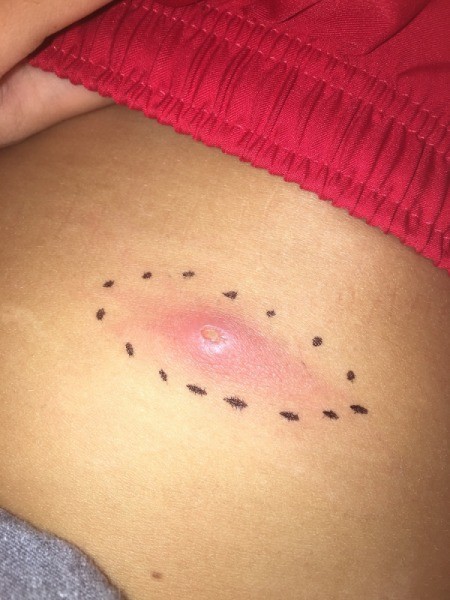 This is her 3rd bite/welt but her roommate has had nothing. The medical clinic on campus in Virginia first told her it was a spider bite. Then she got another one. The campus clinic told her it was bed bugs. Now she has yet another one, #3!
She is an athlete at this school in Virginia. We live in Illinois and can't easily get to her to examine and assess the situation. These wounds ooze and hurt and leave a pretty sizable hole. What are they? What can a do to help her?
Is there some bug only in Virginia biting her, any suggestions? All information would be greatly appreciated.
August 18, 2017
1

found this helpful
Best Answer
Normally bed bugs bite in patterns on the skin. They don't usually only bite once. Whatever is biting her, she has an allergic reaction to the bug.
She will need to check her bed for small stains. The bed bugs leave stains on the cover of the bed and you can find them in the bedding.
For now she will need to use a good bug repellent to protect her skin. One of the best bug repellents I have ever found is mint oil. I make my own here on the islands. Bugs won't buy mint oil for some reason.
Also, keep the bite clean and covered. Wash it daily with an antibacterial soap and use an antibiotic cream on the bite. If the bites are happening at night, tell her to keep her skin covered when she sleeps. Make sure she applies mint oil to her skin several times a day to prevent any further bites. If this continues have her throw her bed away and buy an airbed to use in her room.
August 19, 2017
1

found this helpful
Best Answer
Jn, I'm so sorry this is happening to your daughter (and to you)! That's stressful. My first reaction/thought was "spider bite." I don't think these are bed bugs. Bed bug bites would typically be numerous, not just one here or there. Also, it sounds like you've enclosed the mattress, and that SHOULD help decrease the possibility of bed bug issues. What did you spray the room with? (Some things work better than others). Did you also spray any dresser drawers? I use Alpine PS. It is what pest control companies use (but just in a slightly less concentrated form) and it works GREAT. I order from a Do Your Own Pest Control site online.
HOWEVER, let me offer another possibility. You mention that your daughter is an athlete and that her roommate is not getting these "bites." Some bugs do indeed prefer the hormones or pheromones of one person over another. BUT, this MIGHT be a skin infection rather than a bug bite. Your daughter is an athlete, so she is (I'm assuming) sweating a good bit and possibly having clothes rub against her skin more than the average college female. This might cause enough irritation on the skin to allow a small break and allow normal staph on the skin to enter. From there a cellulitis could start and this type of irritation and eruption could occur. The prevention treatment is not going to hurt in any way, so I would suggest telling your daughter to go to her local grocery store or drug store. They SHOULD sell Hibiclens there. (Or send some to her via the mail). For more info, the website for the product is here: http://www.hibiclens.com. She should shower like normal, but then "wipe down" with the Hibiclens. She does NOT need to drown herself in it! Just wipe down with it. (Perhaps the college clinic will give her a large package of gauze and she can put them in a plastic dish, pour the Hibiclens over them, then cover and leave them in the bathroom to use.) She should do the shower and wipe-down AFTER her athletic activity. Additionally, as another responder said, she is having a reaction. Be sure she gets her thyroid level checked. An inability to fight off such offenses could be the presence of a disease (like hypothyroidism), which leaves the immune system weakened. College is a great time with spreading one's wings and trying new things, but encourage her to eat healthy, and get PLENTY of rest, and try some relaxation to deal with any newfound stress.
To treat the itching in the meantime, she should ask the college doc or NP/PA to prescribe her some Triamcinolone ointment. It is a very potent steroid/anti-itch cream (one of the most potent, therefore it is prescriptive) and it works wonderfully.
Again, my guess is going to be between a spider bite and a skin cellulitis. (I've seen both in practice). This does not have the typical rash of a tick bite and she doesn't have multiple bites (which should rule out bed bugs, fleas, chiggers, mites). Wish you and her all the best. Hope this can be treated and prevented so she can enjoy college life.