Here is another houseplant I am trying to make root again. I cannot find this anywhere. Every 6 months or so, one bloom pops up. The bloom lasts a long time. Anyone out there have a clue for me?
Hardiness Zone: 8a

By Susan from Happy Valley, Oregon
Answers:
Here is a photo of the stem and leaves
It is in a hanging basket. The stems are very sturdy and long. I have been able to root it and replant it - I just need to know how to make it flower more often. (01/16/2011)

By Erskine83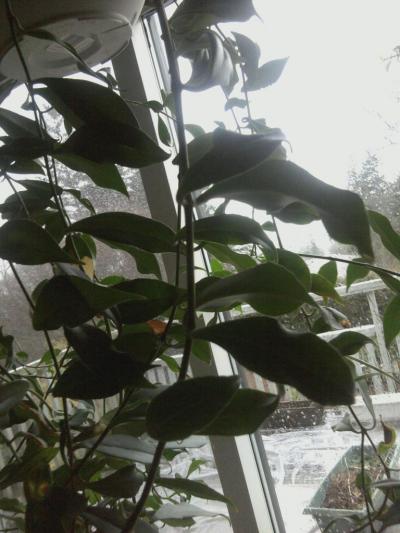 What is This Houseplant?
Could it be a Lipstick vine gone nuts? It is beautiful, congratulations on your green thumb! (01/18/2011)

By jabsgram
What is This Houseplant?
I want to say this is a goldfish plant. We used to sell them in the local florist shop, but being that was over 30 years ago, my mind isn't sure. lol It is beautiful. :-) (01/21/2011)

By pcgranny
What is This Houseplant?
Not a bromeliad, leaves are wrong. Not a lily or azalea either.
I believe it's in the same family as the goldfish plant and the lipstick vine, Columnea. I can't track down the exact species (there are 200+ and hybrids), but I did find a picture of one similar to yours here (text in Polish) http://www.swistak.pl/a5023706,Kolumnea-Columnea-liczne-pomaranczowe-kwiaty.html#zdjecia

If you want to know the exact species of your beauty, I'd suggest you join gardenweb.com and post your picture in the Gesneriad forum and ask for an ID and care advice. (01/21/2011)

By Contester
What is This Houseplant?
Your plant is part of the lipstick family, but the name is Black Pagoda. It's hard to see from the photo, but are the undersides of the leaves deep maroon/purple? I had one up until a week ago, I finally had to get rid of it after a deadly exposure to the hot summer sun this past summer.
Your plant likes to grow on the dry side, it likes lots of bright light, and will bloom in the spring and fall. Have fun with it, enjoy. It's a beauty. (01/26/2011)