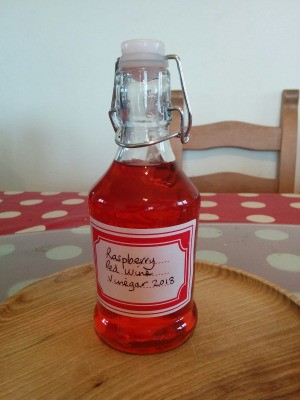 There is quite a story behind this little bottle of raspberry wine vinegar. About 12 years ago, we bought a house in Slovenia with a vineyard; an actual vineyard of about 60 vines. We were very excited by the prospect of growing our own wine until we realised we didnt have a clue how to care for the vines or make the wine.
"Don't worry," said our lovely neighbours, "Grandad knows how to do it all and he is happy to help you." And help us he did, he pruned the vines just in time to bring them back from the point of no return they had reached through previous neglect and then pruned them again later in the year to let light and air in and help the bumper crop ripen.
On the appointed day, we were summoned for the harvest and the process of turning our grapes into wine began. I did forget to mention that quite a considerable cash outlay had been required including; a 200 pint stainless steel vat, 30 lbs of sugar, liquid paraffin, a hygrometer etc. Grandad had secured the loan of a crusher and a press so at least we didnt have to buy those pieces of vital equipment. During the course of the day, the grapes were duly crushed (my OH was a bit concerned when the grapes were left on the stalks as he had watched a few YouTube videos by this point and was becoming a little less confident in our wine Guru Grandad) My optimism, as usual, remained intact, and I trusted that whatever alchemy that needed to be done, was being done. The juice was safely in the vat and wine was apparently now happening. There were 71 litres (about 150 pints)
A few weeks later we were invited to taste the first fermentation. It looked pretty muddy and was attracting a lot of tiny flies but we solemnly tasted it and pronounced it marvelous. We carefully avoided one another's eye as we sipped. And then we forgot about the whole wine thing for a while, I think you have to really, for it to work properly and it wasn't difficult as were living and working in a city a few hours drive away.
One sunny weekend, we managed to get home, I don't think we had really given the wine much thought. So when our neighbour came out to greet us looking a bit sheepish and talking of catastrophe! We were only worried about important things such as children, the dog, the cat. No, they were all fine, the problem was with the wine. A catastrophe with the wine? What had happened? Had it evaporated? Had it failed to do what ever it needed to do to become wine? No, explained our friend, it had turned into wine, but unfortunately Grandad had drunk it.
All of it? we asked somewhat incredulously. Yes, he said sadly, well, not quite all he produced a gallon plastic container. The sorry tale was related, how Grandad had a weakness for a tipple, how Grandad had been over zealous in his sampling and how Grandad had generously invited the neighbouring Grandads round to try it. There was nothing to do about it but laugh, so laugh we did. When our neighbour protested that it wasn't funny, we laughed even louder and the memory of the moment still makes me smile.
So what to do with the 10 remaining pints of wine? After trying it for ourselves in the privacy of our own home, we decided that perhaps it might improve with age so we put it in the garage and forgot about it. It seemed the wisest course of action and we admitted that we were impressed that Grandad and his gang had managed to get through 150 pints of the stuff!
Fast forward a couple of years. We were gifted a couple of bottles of home- made, organic, cider vinegar by a lovely friend. I didn't want to appear ungrateful but- truth be told - it could best be described as 'murky' and there seemed an awful lot of sediment in the bottle. I enquired politely if it was meant to look like that and my friend assured me it was fine, it was just alive!
She went on to explain that to make vinegar you needed just two things; some kind of alcohol and a vinegar Mother. If we were lucky we might be able to cultivate a Mother from the gunge sitting in the bottom of the bottle.
Remembering we still had 10 pints of 'some kind of alcohol' the now very dusty plastic container was retrieved and our surviving vintage finally had its chance to shine. We put about a pint in a big pickle jar with the muddy sediment, covered it with a cloth, to include air but exclude bugs, and put it in a warm place. As no more advice was forthcoming either from my friend or the internet and because I am very middle-aged, I duly forgot about it for about a month.
When I remembered that I had forgotten, I rushed to check the jar and found what can only be described as an alien looking life-form. A thickish, whitish, opaque disc had formed on top of the liquid. I poked it and it sank and then another soon formed, then another, until I had a big jar full of Mothers. I added more wine, I began a new jar, a vinegar Daughter! The vinegar was good, although it was cloudy, less cloudy when I strained it through a coffee filter.
That was when I decided to add some of our home-grown raspberries. We had a bountiful supply since our rogue raspberries had escaped (a tale for another day) in a fresh jar of filtered vinegar. Within a week, they had given our sad old leftover wine, a delicious colour and a fabulous fruity taste.
I am not sure what the moral of this story is, never give up? Give up and try something different? Or simply make the best of whatever comes your way. All I know is that I am now hooked and have big plans to make enough vinegar to pickle our own beets this season. I also hope to have enough left over to experiment with more flavours. Looks like we need to have another try at making our own wine!