I had always been someone who spent too much on things we just didn't need. I would buy on impulse, and shopped until I dropped. About 6 months ago, I saw a video on YouTube about couponing in Canada, and decided to try it out. So I have been using coupons and price matching at Walmart. I have saved a lot of money doing this as well as obtaining a lot of free items by waiting for things to go on sale.
My partner has always been frugal. He could teach you how to feed 5 people from one meal! He is glad I am starting to be frugal. I also shop at Shopper's Drug Mart for sales and earn points for redemption. I also do swag bucks and earn gift cards.
I make my own laundry soap which costs 1 penny a load. I get 3 bottles of Palmolive dish soap out of one by adding vinegar, salt, and warm water to each bottle. It makes the dishes shine! I use vinegar for all my cleaning now. It gives everything a shine, and is cheap.
I plan our meals from the weekly sales flyers, and do all the cooking in one day for the week. I think before I buy something now! One more tip. Do not shop with kids, if you can help it!
By Tracy C. from Brockville, ON
Do you have a frugal story to share with the ThriftyFun community? Submit your essay here: http://www.thriftyfun.com/post_myfrugallife.ldml
Google just added a silly slide out panel to the new Gmail. It serves no purpose, gets in my way, and I find it very annoying. I think most businesses of today feel they won't be considered progressive unless they're constantly making changes, whether needed or not, whether good or not.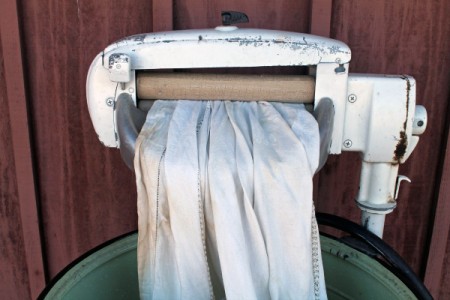 Read More...