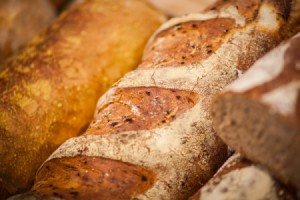 A friend of mine, for as long as I can remember, would say, "A loaf of bread costs what it costs, and you can eat only so much bread. Why would you buy more bread then you could ever use?". In my younger years I would chuckle to myself. She had gotten married at a young age, and had children shortly thereafter. Budgeting was a necessity, and trust me, she went through some tough financial times. Me? I was in my early twenties at the time, and well, was not at all budget focused. It was more fun spending money as soon as it came in, and trust me, during those years I was earning just enough to get by, maybe. If I had a bit left over, out I went.
Of course my friend's statement was somewhat rhetorical. With freezers and canning, etc., stocking up is not a bad thing, especially when something is on special. The other part of that is being able to budget in ways that allows you to take advantage of sale items as they occur. The more important underlying message of her statement was to be content with what you have; family, friends, love. Food on the table doesn't have to be high end expensive meals; the best meals I've had involve low-cost meals that take a bit of planning, but are tasty; legume based soups, chili, you get the idea.
I did eventually crack down and became much more focused on thrifty living. I even drove my mom nuts.

"Where did you get that outfit?"

"The thrift store."

"You bought how much chicken backs and necks for soup stock?"
She would shake her head, wondering how of her five children, I was the one who ended up taking her (and my friend's) lessons to heart.
I am not special. I did grow up though. I matured, and realized that I truly enjoyed the challenge of not racking up consumer debt after I had paid it all off. I have a wonderful husband, who is like-minded when it comes to thrifty living. I have been able to take early retirement last year, just before my 56th birthday. We do not live in a fancy home, but what we have is comfortable, and suits are needs. And we eat simple but lovely meals.