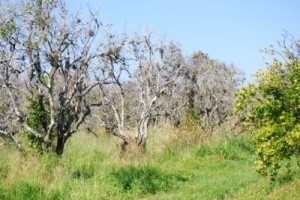 Many factors can affect a tree's ability to bear fruit, some of which are completely out of your control. Weather, for example. An unexpected late frost can damage blossoms or young fruit, and cause your entire crop to fail. To occasionally experience a poor crop is disappointing, but it's not uncommon. If it continues to happen year after year, however, the problems may be something you can control.
Weather and Fruit Production
Too Mild Winters: Most hardy fruit trees rely on cold winter temperatures to end their dormancy and to trigger spring growth. Mild winter temperatures result in a delay of spring growth and extend the risk of exposure to frost injury.
Too Harsh Winters: If the weather turns cold before hardy fruit trees have a chance to adjust and go dormant, the fruit buds may suffer cold damage and die. In the case of citrus trees, which never go dormant, freezing temperatures may cause water inside the fruit, leaves, twigs or wood to freeze and rupture the cell membranes.
Frost Damage: Frost, particularly a late frost, can damage the blossoms or young fruit and cause partial or complete crop failure. The open blossoms of just about any fruit tree may die if the temperature drops below 27 F, but early flowering trees face the greatest risk.
Reduced Insect Activity: Cold weather slows down insect activity, including activities carried out by pollinators. Fruit trees may still produce an abundance of blossoms, but without enough visiting pollinators, they will fail to bear their fruit or the fruit will start to develop but then drop from the tree.
Pollination Partners
One of the most common reasons fruit trees fail to produce fruit is that they are not planted within an acceptable distance of a compatible partner (in your garden or in the garden of a neighbor). Although a few fruit tree varieties are self-fertile, most need at least one suitable tree close by that is in flower at the same time. Insects or wind then transfer pollen between the two trees to facilitate fruit set. When you buy a fruit tree, be sure to ask the nursery if it needs a pollination partner.
Tree Health
It takes healthy trees to produce good quality fruit. Weak or diseased trees will produce fruit of poor quality (in size and yield) if they produce any fruit at all. Check your tree for problems caused by insects and disease. If not detected early and managed properly, they can influence fruit production and cause a decline in the tree's overall health.
Bud Thieves
Birds and squirrels may occasionally steal fruit buds and developing fruits before they get ripe. But unless populations are unusually high and other food sources low, neither of these thieves is likely to destroy your entire crop. Finding effective solutions to bird and squirrel problems is not always easy. Try bird netting early in the season or in extreme cases, growing fruit in cages.
Biennial Bearing Cycles
Some trees (apples and pears, especially) may produce heavy amounts of fruit one year and light amounts of fruit the next. These trees are referred to biennial bearers. Thinning the fruit during high production years help maintains a balance between vegetative growth and fruiting, which can help return the tree to a more even cycle of production the following year.
Tree Age
The age at which fruit trees start to bear fruit varies according to species, but can be anywhere from 2 to 7 years. If you recently purchased your fruit trees from a nursery, they may only be 1 to 2 years old and simply need more time to mature. If your fruit tree is old and overgrown, it may benefit from being renovated.
How to Renovate Old Trees
Pruning: Do this over the course of several years, in the winter when the tree is dormant. Using the rule of thirds, start by removing approximately 1/3 of the excess dead and diseased branches (in their entirety) the during the first year. Do this each winter for three years, starting at the top of the tree, and pruning progressively less each year as you make your way down through the canopy.
Fertilizing: Your old tree may or may not need it. Get your soil tested to determine the need for lime, potassium (K) and magnesium (Mg) and amend your soil as necessary. Unless the results of the soil test recommended it, avoid fertilizers containing high amounts of nitrogen. Otherwise the combination of nitrogen and severe pruning may stimulate excessive amounts of vegetative re-growth.