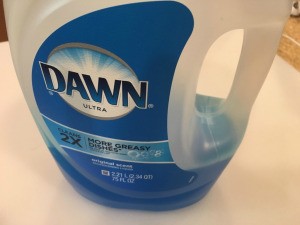 Can Dawn dish soap help with my black Lab's dry skin and dandruff issue?
By Tanya from Boyers, PA

Answers

August 27, 2010
2

found this helpful
Best Answer
I highly doubt it, because Dawn is best-known for its grease-cutting capabilities. It will only make skin drier.
Ask your vet what he/she recommends to help your dog's dry skin. There are probably over-the-counter remedies available at a nearby pet store.
Another place to look would be at www.DrsFosterSmith.com/
August 13, 2016
3

found this helpful
Best Answer
Murphy's oil soap is what my vet recommends. It is made with all natural plant oils and does not strip the snimal's natural oils away. Safe to use since it is nontoxic and can be used at every bathing. Leaves coat healthy and shines.

July 2, 2017
1

found this helpful
Best Answer
I would try coconut oil. it's literally one of the best, most all natural organic moisturizer in my opinion!

vicki hood
Bronze Feedback Medal for All Time! 102 Feedbacks
August 30, 2010
1

found this helpful
Improve diet. Raw diet best but no grocery store pet food. Specialty store but no corn. wheat or soy (Causes allergy) Few supplements (like raw flax oil) no vaccines good unsweetened yogurt with ophiluses in it.
Borax in carpet for fleas, bathe in oatmeal soap until skin improves. Sometimes if there is no improvement, thyroid needs checked.

August 31, 2010
0

found this helpful
Hi, we like dog baths with a small amount of Epsom salt and olive oil. It only takes a small amount and it seems to help and does not leave them feeling oily either. Good food helps from the inside and that is the best place to start.

Beth
Silver Feedback Medal for All Time! 407 Feedbacks
August 31, 2010
0

found this helpful
We had a dog once with terribly dry skin and dandruff. The vet had us bathing him with a special shampoo. It did no good however because the problem, we found out much later, was that he had diabetes.
Veterinary care has come a long way in the last 25 years. I would start with a through checkup at the vet.

July 5, 2011
0

found this helpful
Dawn "cuts the grease", and also gets rid of the natural oils on the animal's skin and coat. So, it is not a good idea to use on an animal with dry skin. There are many reasons why your dog has dry skin. Perhaps the food needs to be changed / improved. Some dogs need a better quality food than what is usually found in a grocery store. Sometimes the addition of a supplement (doggie vitamin, either general or specifically for the coat) will help. Using a natural bristle brush to help spread the coat and skin's natural oil and stimulate the production of natural oils may help.
Sometimes with breeds like Labs, people don't think they need to be groomed often, but in the case of dry skin and coat, it may help to do just that. If none of these work, it could be an allergy (to something in the food, to something in the environment, or something in the home, i.e. cleaning products, etc.). I would start with the food and additional brushing, and if still no improvement, check with the vet (about allergies, or what else it might be).

July 30, 2016
0

found this helpful
Isn't it ironic. Dawn is made by Procter and Gamble who torture animals. Please let's not use their products, ESPECIALLY on our pets :'(

May 10, 2018
0

found this helpful
NO!!! Dawn will not treat a dog's dry skin. Did you know that liquid dog shampoos and liquid soaps have chemicals that may cause allergies for your dog. Of course, I wouldn't rule out your pets diet but when it comes to washing your dog, I encourage you to use all-natural products. I have a dog soap / paw balm line and I found that my dog soaps work wonders for my dogs! There are certain essential oils I put in my soap specifically for dry skin.This pushed me to start making my own products when I used a Fresh n' Clean shampoo with oatmeal on my mini bull terrier.
BTW, the bull terrier breed is known for dry skin! When I lathered my dog in this shampoo, she immediately broke out in hives and her skin became flaky! Never again will I use liquids!!!
November 27, 2018
0

found this helpful
My pit had dry skin we gave him fish oil that cleared it up pretty fast to took like 1-2 weeks

September 11, 2019
0

found this helpful
Can I put coconut oil on my dog after a couple of day after washing in dawn liquid and her skin is dry and flaking

Myrna
Bronze Feedback Medal for All Time! 168 Feedbacks
October 16, 2019
0

found this helpful
Having read through several replies to your question, I want to let you know that we had a dog with serious skin condition. She was a breeder dog and was suffering from lack of care when I got her. Her hair was dry looking and brittle; no sheen and her skin was rashy looking and she itched a lot. After 6 mos. of visits with her vet and feeding her cooked deer meat. chicken, etc. her skin improved as well as her fur. She no longer itched, the skin looked healthy again and the sheen returned to her fur and it was soft.
She also had worms badly and on medication for treatment. All in all, working with what the vet did and her healthy food intake, she was feeling like a new girl and very playful. She also had much needed teeth extractions. This dog was very much neglected of care when I got her. She lived to be 15 yrs. old and was around 7/8 when she became a part of my family.

September 10, 2021
0

found this helpful
Can I put coconut oil on my dog after a couple of day after washing in dawn liquid and her skin is dry and flaking
Answer

this Question