I found out today that unfortunately my 6 month old Chihuahua has parvo. I've been crying all day. We could not hospitalize him because it would be $700. So we have him at home trying to give him water and Pedialyte to help him. I really hope he gets better. Each day we will have to take him to the vet clinic to have IVs, but I am still afraid that it will not be as effective as him staying there.
I just hope he will be OK. My grandmother has had many dogs die from this terrible disease including her most recent one that passed over the weekend. I am wondering what his chances are. Also, I am wondering if I should clean everything inside and outside now, or when he gets better. By the way, my dog's name is Chewy.

Mercedes from Killeen, TX
Answers:
Will My Puppy Survive Parvo?
A Beagle was saved from dying of parvo because the son gave him round the clock care for the first 24 hours. He slept near it on the floor and each time it threw up, he would give it more fluid. He had to force it down him with a big hypodermic syringe without the needle of course and held about one ounce. The Beagle pulled through and it's critical the dog remain hydrated. Good luck with your sweet dog. (04/25/2008)
By Lorelei
Will My Puppy Survive Parvo?
Our dog got parvo and I took care of him at home. I did the same as you with water and Pedialyte; about 1/4 cup every 15 to 30 minutes kept him from vomiting it back up. Our vet also gave him an oral dose of worming medicine. He said he doesn't know why, but it seems to help. Our dog pulled through and in just a few days was back to his old self. Good luck! (04/25/2008)

By Lori
Will My Puppy Survive Parvo?
Check with your local feed store, and see if they carry penicillin for animals. You can buy the medicine, and the syringes there for not much money, and give the shots yourself. When my dogs got parvo, we did this, and we alternated chicken broth with the Gatorade, through a needle-less syringe into their mouths. In a few days, they were both up and around. They are 5 years old now. Good luck to you and Chewy. (04/25/2008)
By Gail
Will My Puppy Survive Parvo?
Keep the pup hydrated and treat the symptoms. I treated parvo with Pedialyte (keep refrigerated after opening), Pepto, and Ester C. I used a needleless syringe to give lot of Pedialyte, small amounts of Pepto every few hours, and most importantly, Ester C capsules, 500mg twice a day for pups. It must be Ester C capsules, not regular C, and capsules work fastest.

You must be vigilant and be on watch 24 hours a day. Keep it up until all symptoms are gone. No food, lots of liquid and prayer. (04/25/2008)

By Sherry
Will My Puppy Survive Parvo?
All the above advice is great and sounds like your on the right track. I'm concerned with what you said about your grandmother has had many dogs die of parvo. That's not normal and its very possible each pup is catching it from her house. It can take a very long time for the parvo disease to die away in someone's back yard, etc. (04/26/2008)
By Sarah
Will My Puppy Survive Parvo?
I love how mods here delete some feedback just because it is not as positive, but yet constructive. I think any responsible pet owner should be told and realise that preventing the inevitable is better than having to deal with it when it comes.

Everyone: get your dog all his/her shots at 8 weeks. No exceptions. If you do not want to bring it to the vet when something this dangerous comes upon your furry friend, do not get a pet. If your child came down with pneumonia and you could not afford the hospital bill, would you just place him/her in bed and try to will them back to health? I'm sorry but I consider that abuse.

Either way, good luck, I really do hope the home remedies help, and that you learn something from this in the future. We all deserve a second chance, if it is given. (04/28/2008)
By schubunny
Will My Puppy Survive Parvo?
Please don't put more puppies in that yard. The parvo virus is most likely living all over the place. I work at a vet, and I have been told that the virus can stay in the ground for a year. Any time a pet comes in with parvo, we have to clean every surface in the office with bleach + special cleaner, and we never take dogs to the special area designated for parvo dogs (outside- where they urinate). (05/13/2008)

By x
Will My Puppy Survive Parvo?
My puppy just survived parvo with at home treatments that cost only 300.00. I hope I don't jinx myself but he is doing a lot better. Use 10% Bleach and 90% water everywhere the dog has been. God bless you pup. (07/09/2008)

By
Will My Puppy Survive Parvo?
My puppies had parvo. With one vet visit and an IV, I took them home, and fed them Pedialyte and baby food (meats). It took a couple of days, but they have been eating, drinking, and playing now for about a week. It can be done, good luck to you all. (07/31/2008)
By Randall L. Sprague
Will My Puppy Survive Parvo?
My new puppy (had her for 3 days), Lucy, received her puppy vaccination last week which caused her to become very ill (vomiting, diarrhea, loss of appetite, etc.), a couple of hours after receiving the vaccination. My vet told me this was a normal reaction to the vaccination which I've found to be correct upon doing some research.

Unfortunately, her health severely declined by the next morning so I brought her to the best pet specialist hospital (SF Veterinary Specialists) in San Francisco where I live. They tested her for parvo and it came back positive. Lucy has been receiving the best treatment possible from this specialist over the past few days. Lucy's health has been a roller coaster ride since she was diagnosed. Lucy has been receiving round-the-clock treatment, including electrolyte and plasma IVs, as well, as anti vomiting and anti diarrhea meds.

I've been visiting Lucy each morning and night and can now see she's taking a turn for the better this morning. She seems more alert and has been keeping limited amounts of baby food down without vomiting. Since Lucy and other dogs love to give their owner's kisses, my trick to getting her to eat the baby food is to place it on my lips and kiss her, thereby, she licks the food off my lips.

My vet bill is $2K as of today and will more than likely climb over the next few days as she gets stronger. Frankly, I don't care about the money, I care about my new puppy's health. I realize not everyone has the financial ability to care for their parvo pet as I have been fortunate enough to do so, however, each dog owner has a responsibility to do right by their pet whether it's caring for your sick pet yourself or knowing when it's time to seek professional help. Though I'm paying top dollar for the best care, there are other affordable options, including the SPCA which provides round-the-clock care in most locations at the fraction of the cost that I'm paying with the specialist. If you choose to care for your parvo pet yourself, keep him/her hydrated every hour, stay by their side (there's nothing better than the touch of a loved one, do what you can to get them to eat baby food and pray. Praying alone won't work.

Please, familiarize yourself with the signs of parvo, as well as other pet related health issues, and take action immediately! The key to recovery is quick treatment.

Note to breeders: You must take responsibility for caring for your new puppies (maintaining a clean environment free of feces, get the new puppies immunized at 8 weeks, etc.) so that when you pass on your puppies to a new owner, they aren't faced with health issues and vet bills that are preventable with just a little common sense. Breeding animals shouldn't be all about greed ($).

Cheers. (02/15/2010)

By Brian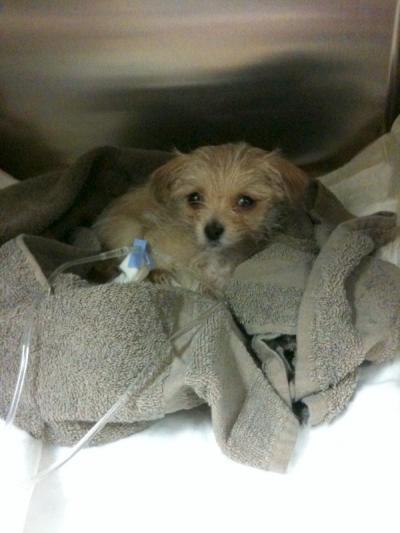 Will My Puppy Survive Parvo?
Do not leave your puppy at a vet. Get a medicine dropper and force feed it small amounts of chicken broth, chicken and rice or noodle baby food, and Nutri Cal, which is a vitamin supplement paste found at most pet stores. If you do this and make sure your dog does not get dehydrated it should be fine. It is gonna take a lot of patience and very time consuming, but I have lost a dog to parvo because I left her at the vet and she got stressed out because they feel like you are abandoning them. I have saved 2 puppies from parvo doing it from home. Good luck with your puppy. I hope this helps. (04/07/2010)