Winston James is 7 years old. He is Sharpei and Basset hound mix. He has Sharpei coloring, but a Basset body and legs. We rescued him from the pound when he was 4 months old. He had actually been brought in by his owner that afternoon, and came with his blankie, crate, bowl, toys and full medical records.
Besides being totally adorable, he was already trained. He even had a bell to hang on the back door knob which he will 'ring' with his nose when he has to go outside!

He loves to go camping with us, especially going on walks through places he has never been before. Because of the Basset in him, his nose is always on the ground, tracking every smell. He also loves sitting on the top of our couch looking out the big window, watching for squirrels in the front yard.

He is so smart and funny. One of his best tricks is one I taught him, but he doesn't like it as much as I do! I will ask him to sit, and place a biscuit on his nose and tell him to wait. He will sit looking cross eyed at it, drooling until I tell him 'okay' then he will toss his head up and catch the biscuit in his mouth and chomp it up.
By Kathy from Seattle, WA

Answers:
Winston (Sharpei/Basset Hound)
Winston is just the cutest thing. I love him. Please give him an extra hug for me. Thanks so much for sharing his picture with us. It sure made my morning with a smile on my face and happiness in my heart. (03/09/2010)

Winston (Sharpei/Basset Hound)
He is a funny dog, here is another picture of him and his sister, Rusty Jean, also a pound puppy! (03/10/2010)

By Kathy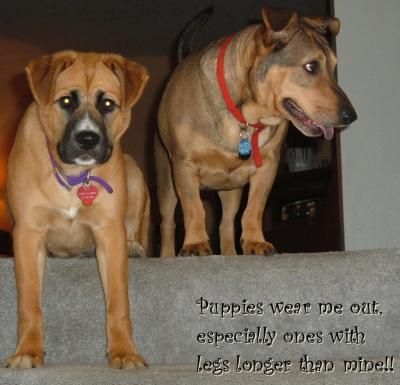 Winston (Sharpei/Basset Hound)
He's adorable and I love his biscuit pleading eyes ;-) Both of your babies are the cutest :-) (03/10/2010)

By Deeli
Winston (Sharpei/Basset Hound)
I totally voted for winston james-but please don't humiliate him by doin' a stupid trick that amuses you. He deserves better. Please and thank you. (03/12/2010)