Basset Hound Mix Photos
Photos
Share on ThriftyFunCheck out these photos. Click at right to share your own photo in this page.
Sadie Boo passed away from cancer last year at the age of 15. We miss her terribly. Sadie Boo had the body of a Basset Hound, what else she was mixed with is a mystery.
Sadie Boo was adopted at the age of 9 weeks from Second Chance animal rescue. I say it is sad a 9 week old puppy needs a second chance. She loved to bark and roll over for attention, play fetch, the "chase me" game, demand to be petted, and look cute!
Sadie Boo is my miracle dog. She was diagnosed with arthritis up and down her spine and spreading into her hips when she was only 2 years old. Sadie Boo had major surgery on her knee in 2003. The vet told me to prepare myself that she wouldn't be with us much longer.
I found a natural supplement which I swear gave Sadie Boo another 6 years with us. She had more biopsies and tumor removal surgeries then I can count. Each time she was a trooper! She never fussed or whined, but if you tried to cut her nails, it took 3 people to get the job done.
Sadie Boo was my best friend and a joy. She got me through some of the hardest parts of my life. She did the silliest things that made me laugh. Sadie Boo smiled and ran up until her last day, when cancer finally took her from us.
This is my first Christmas without her. I missed hearing her bark with excitement and watching her open her presents, which she did without any help from anybody. She would actually tear the paper and spit it out.
By Bordermix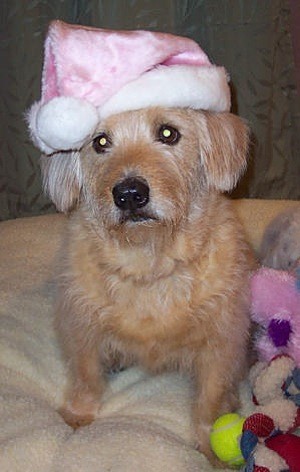 This is in memory of my dog Fritz. He lived to be 17 years old. He was half Beagle and half Basset Hound. I got him from a friend in January 1988. He loved to hunt rabbits and chase squirrels in his prime, but he never caught any.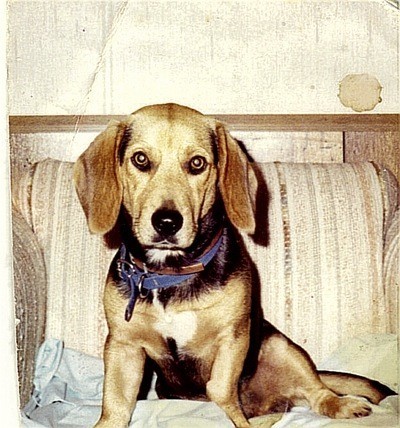 When my husband and I got Fritz at the age of 6 weeks old, I could not stand the thought of leaving him in the pen or on a leash that was bigger than he was. So it began, having a house dog that was supposed to be a hunting dog turn into a spoiled part time house dog that thought he ran the house. I was unable to have children and my siblings did not have any children yet, so Fritz became the Grand-dog. It was seven years before there were any grandchildren so as you can imagine, Fritz was very loved and spoiled. He was even featured in the 1999 At A Glance Calender (Tuesday February 23).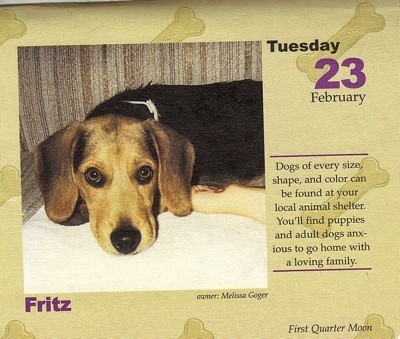 As he grew, we decided we would put him in a pen while we were at work. Bad idea! He climbed out, dug out, and chewed through the wire. Next we made him a dog run. I lost count of how many times he broke his collar, broke the run, pulled the collar over his head, or just got loose and we didn't have a clue as to how he did it. We started calling him Houdini. As much as I was against the idea, we finally put a choke collar on him and he did OK for the most part after that.
His only weakness was storms. If I couldn't get in touch with my parents to take care of him, I would have to take a little extra time on my lunch and run home and put him in the house. I dreaded coming home after a storm, because I knew he would do something terrible like chew up the mini blinds or knock over my plants while looking out the window. One time he chewed up a box into tiny pieces. I had folded up some clothes and put then in the box to take them to the Goodwill Store and the clothes were all over the floor unharmed, but I couldn't understand how he had chewed that box into tiny pieces without harming the clothes.
As he aged, his hearing and sight started going. We didn't have to use a choke collar any more because he stayed close to home. You could tell he was not doing well. He had his good days and his bad days. He could still tell time though, because every night at 9:00, I gave him his last walk till morning. As soon as my feet hit the floor, he knew it was time for his walk and he was ready to go. He loved sitting on the front porch so I leashed him out there anytime I was home.
As the days went by, I could tell he was going downhill fast. I tried not to think about it, but I knew that there might come a day when a decision would have to be made and I prayed that I wouldn't have to make a decision like that. The last day that I leashed him to the porch, I laid down on the couch to take a nap. I don't remember the weather man saying anything about rain and it didn't look cloudy at all. I must have been really tired, because I didn't hear the storm come up. It was a short storm, but it had thunder and lightening. I awoke to the phone and it was my Mom calling to remark about the storm. I told her that I had slept through it and then I remembered Fritz was leashed on the front porch. I raced to the porch and saw the he had wrapped himself around one of the pole's and jumped from the porch and then slipped his collar off. The collar wasn't very tight, so it would have come off easy. I looked everywhere and used a dog whistle and called his name. He could still hear a little, but he was not where to be found. I had two wonderful neighbors help me look for him and I walked down the pasture and into the woods for 2 hours. It was still raining, but I didn't want to give up.
Finally my next door neighbor told me that he had noticed that Fritz was really having a hard time and he looked as if he had not felt well in a while. He said that some dogs go off to be alone and die. He told me it was a blessing that I didn't have to make that decision because he knew that I didn't want Fritz to suffer on and it took a lot for a person to let go of an animal that was suffering and make that decision. It was a very hard time for me.
Seventeen years is a long time to love an animal. They feel like part of your family. I felt so bad that I had left him on the porch during the storm. I wanted him to know that he meant the world to me. He might have just been a dog but he had been with me through all the good and the bad. That unconditional love that he had for me had helped me many a day and I felt like I let him down. I wanted that last day over but I knew that things didn't work that way.
When my mom and dad found out, they came down and helped look for their Grand-dog. They loved him too, but also knew his time was drawing near. He was such a special dog and I know that there will never be another one like him.
By Melissa
Ima is six months old. She is part Bird Dog part Basset Hound. They where giving them away at Wal-mart.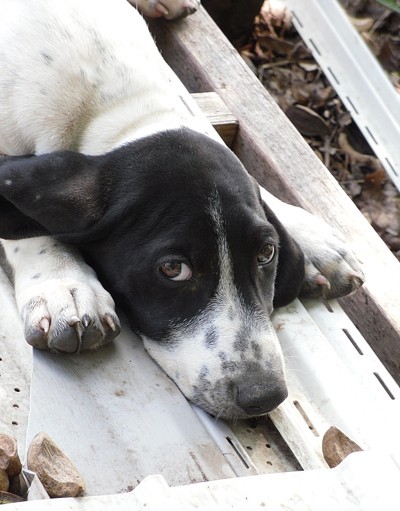 Read More...
Sasha is 1 year and 4 months old. She is a Beagle/Basset Hound/Dachshund mix. I got Sasha when she was 3 months old on March 14, 2010. She was the last pup of the litter and was so cute, I don't know how anyone could have passed her up.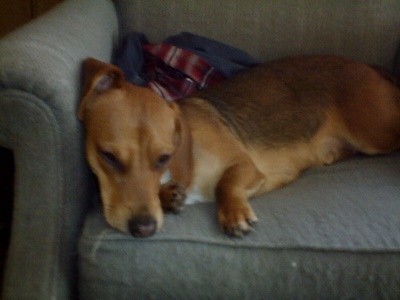 Read More...
Lady Bug is a 10 month old Basset Hound and Beagle mix. My husband and I got the dog from my sister-in-law when she was just a puppy. She loves to chase anything that can be thrown.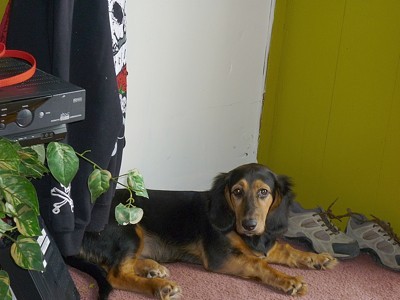 Read More...
Dixie is a 2 1/2 year old basset hound-terrier mix. She was a rescue from our local animal shelter. She likes to dig holes in the yard. She enjoys the outdoors and went camping with us last spring. She is the best pet ever; so faithful and loving.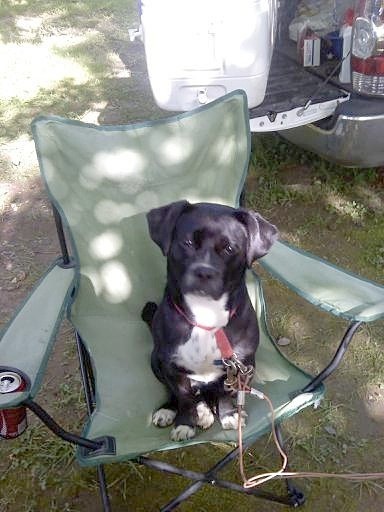 Read More...
Bailey is about 6mos. old. I think she is part Basset Hound. I am disabled so, I am in bed most of the time. It is really lonely. I told my daughter I want a puppy to keep me company. S he and her boyfriend went to the pound and brought her home to me.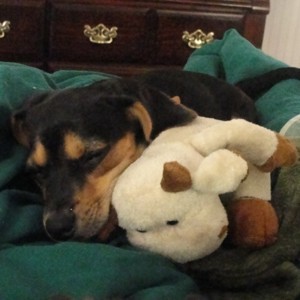 Read More...
Tank is 7 and a Basset and Lab or a BASSA-DOR. My husband found him in a dumpster in Florida seven years ago
Read More...
Winston is 10 years old. He is a Sharpei/Basset Hound mix. I rescued him from the pound when he was 3 months old. He loves to play tug of war with our other dog and hide his bones and toys in my shoes.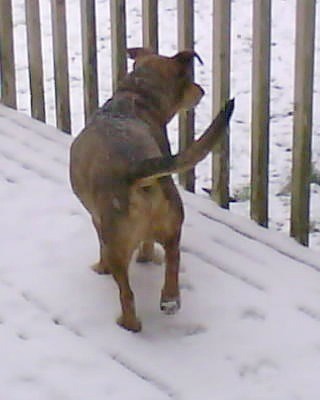 Read More...
Henry is 8 and is a Basset/Pointer mix. We had lost our Chihuahua to heart failure, and I was just looking at adoption sites, pining for my "Razz". I saw Henry's pic on find a pet; I thought it was cute the way they described him (mom was a basset, dad was a traveling salesman), and he was a little funny-looking, a freckled basset. Bf wanted to go look at him, and we wound up adopting him Dec '05
Read More...
This my wonderful little dog Sam with my greatniece Sara. He is approximately 4 years old. A friend rescued him and then he came to live with me a couple of years ago.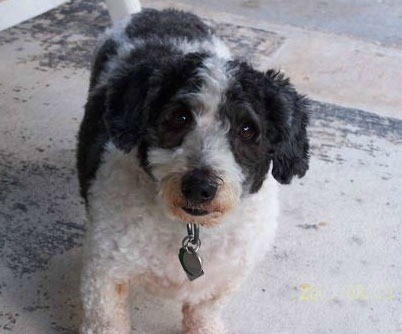 Read More...
Auggie Doggie is 3 years old. He is a Bagel (Beagle/Basset hound cross). I acquired him as a puppy at an Alabama Flea Market.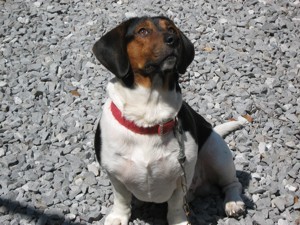 Read More...
Archives
ThriftyFun is one of the longest running frugal living communities on the Internet. These are archives of older discussions.
Winston James is 7 years old. He is Sharpei and Basset hound mix. He has Sharpei coloring, but a Basset body and legs. We rescued him from the pound when he was 4 months old. He had actually been brought in by his owner that afternoon, and came with his blankie, crate, bowl, toys and full medical records.

Besides being totally adorable, he was already trained. He even had a bell to hang on the back door knob which he will 'ring' with his nose when he has to go outside!

He loves to go camping with us, especially going on walks through places he has never been before. Because of the Basset in him, his nose is always on the ground, tracking every smell. He also loves sitting on the top of our couch looking out the big window, watching for squirrels in the front yard.

He is so smart and funny. One of his best tricks is one I taught him, but he doesn't like it as much as I do! I will ask him to sit, and place a biscuit on his nose and tell him to wait. He will sit looking cross eyed at it, drooling until I tell him 'okay' then he will toss his head up and catch the biscuit in his mouth and chomp it up.

By Kathy from Seattle, WA

Answers:
Winston (Sharpei/Basset Hound)
Winston is just the cutest thing. I love him. Please give him an extra hug for me. Thanks so much for sharing his picture with us. It sure made my morning with a smile on my face and happiness in my heart. (03/09/2010)

Winston (Sharpei/Basset Hound)
He is a funny dog, here is another picture of him and his sister, Rusty Jean, also a pound puppy! (03/10/2010)

By Kathy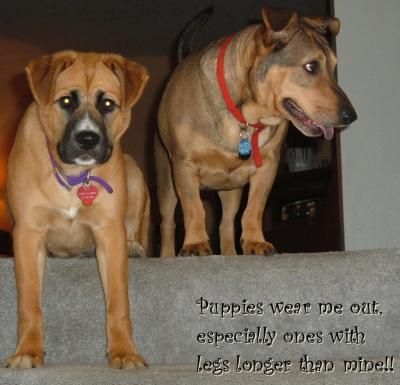 Winston (Sharpei/Basset Hound)
He's adorable and I love his biscuit pleading eyes ;-) Both of your babies are the cutest :-) (03/10/2010)

By Deeli
Winston (Sharpei/Basset Hound)
I totally voted for winston james-but please don't humiliate him by doin' a stupid trick that amuses you. He deserves better. Please and thank you. (03/12/2010)