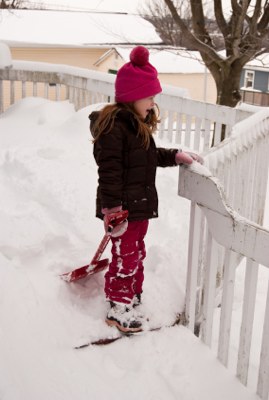 The winter weather might be nearing its end and parts of the country never saw snow days, but that doesn't mean that your family can't enjoy a Saturday snow day. The idea of a free day of lounging, playing, and bonding while trapped inside the house for the day is often sabotaged by shoveling, power outages, and trips to daycare. Instead of waiting for nature to provide the perfect storm, create your own family snow day.
After a particularly rough winter in the northeast, we adopted the Saturday Snow Day. While schools had snow days throughout the month of January most workplaces did not. My husband seldom saw a snow day, leaving us to spend the days thinking how fun it would be to spend the day together as a family. Then, the snow season came to an abrupt end, wrestling practice kicked into high gear, and we could really have used a snow day. We decided to create our own family snow day.
Family, Fun, and Free
The perfect snow day has three great things going for it. It can keep family together by canceling every other event, practice, and shopping trip. It has every opportunity to be fun and relaxing, and the best part is that it's free. Spending time together can invoke rolled eyes and boredom, or it can bring about a great day. A completely relaxed day together with no schedule or pressure to get anything done can do wonders for your family. Don't force the group to endure family game night, a formal meal, or family movie time. Instead, let it happen naturally.
The Rules
Saturday snow days need to adhere to some basic rules in order to reach their maximum potential. First of all, build up to the announcement of it, and find a time when everyone appears to need a day of relaxation. Don't forgo important practices or events, or you'll meet resistance.
Rule #1: The "snow day' needs to confine you to your home or yard. A rainy day keeps you in the house, but moving outside is acceptable as long as everyone stays in the perimeter. It is difficult to pretend it's snowing outside if you're grilling on the patio, however. Like a real snow storm, driving is off limits. Stay home.
Rule #2: The snow has closed the roads. That means that the pizza delivery man can't come to the door. No ordering out and no shopping on the Internet. No expenses today. Plan ahead and stock up on some yummy and fun snacks ahead of time.
Rule #3: Take some time to enjoy the things you have in your home that make you happy. Enjoy family, games and activities that are already there. Enjoy relaxation, and enjoy a day without stress.
Rule #4: Pajamas are the dress code for the day. Kids will love pajama day. Adults will enjoy lounge pants and t-shirts.
The Entertainment and the Food
The entertainment for the day is whatever you want to do. Snow days when we were kids meant free days to do things that we wouldn't do on regular days. So, during our Saturday snow day my son built a fort out of the couch cushions and I sat inside it with him while I read my book. We made three different types of eggs for breakfast and grazed on special lunch treats that we normally don't have in the house like spinach dip.
For dinner I put a ham in the crock pot and we each ate it the way we preferred - sandwich style or sliced. It was a fun day; it was a relaxing day, and it was a day that created more family bonding than an expensive trip to an amusement park or a night out to dinner and a movie.
Read More Comments