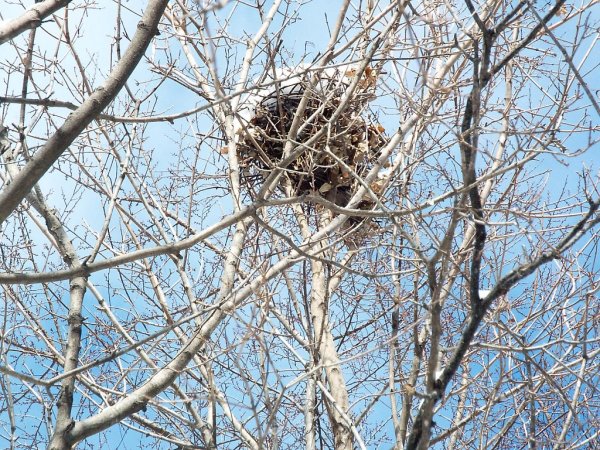 It seems as though, when Mother Nature sticks a knife in, she twists it. She dumps a heavy layer of snow atop a little squirrel's nest. Poor squirrel. No central heat nor fireplace, no long johns, nor muffler. And as fit as he must be to survive, not an ounce of fat for insulation against the bitter elements. She's a heartless and cruel lady.
Truth be known, the snow probably acts as a layer of insulation and as a wind break. I would wager, the nest is quite warm and cozy; much warmer and cozier than without the layer of snow. And within the nest, or hidden elsewhere, (maybe in the cavity of some old tree); a nice stockpile of pecans. High in energy and sure to keep Mr Squirrel's metabolism at peak performance, providing even more warmth from within. He's in that nest, napping, and dreaming he's in Bora Bora.
Cedars are magnificent and stately souls. They adorn the countryside wearing a robe of deep emerald green. Evergreen, if you will. 'Out there' would sure look bleak each winter, were it not for the cedars and their kin. When all else appears lifeless and forsaken, the cedars remain steadfast, keeping the green, giving all a taste and a promise of spring.
And when snow falls, this beauty is not intimidated. With his many, far reaching limbs, he catches every snowflake coming his way. Proudly wearing his garment of purest white, he stands in display before the world, looking no less the fashion plate of the eon. No self respecting log cabin or hope chest would be without the timeless odour emitted from the wood of this most handsome specimen.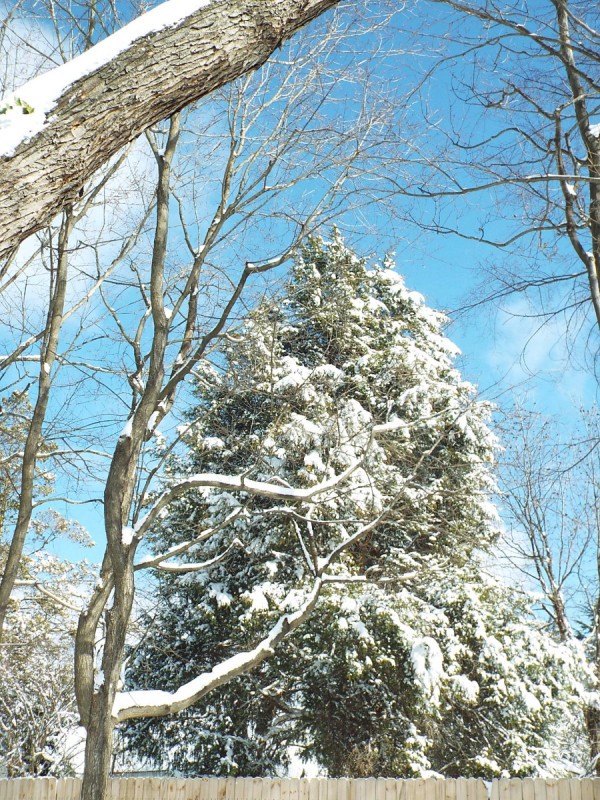 Now who could be so heartless, leaving nice tropical plants to suffer the freezing cold and snow. Surely, they won't make it another day. What a shame.
Friends, I give you Aspidistra elatior, the parlor palm of the roaring twenties. My first year to grow them, I bought them for their tropical appearance, and more so, for the fact they stay green all year. Quite hardy, these ladies appear to be from tropical climes; and with their evergreen habit, they, along with my Arborvitae, give me much green in an otherwise, drab, winter landscape.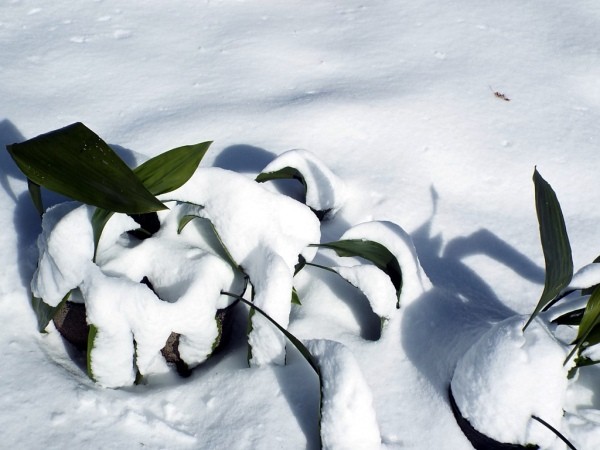 I've been warned repeatedly against letting ivy grow on my maple trees. I am told it will compete with, and eventually kill the trees. I've never witnessed this. I do occasionally thin and trim the ivy, but I'll never bring it down. Ivy growing on a tree has a way of adding old world charm to an estate. I like to think it does the same for my little half acre. The snow and ivy blanketing this tree is as it should be. Yes, in my neighborhood you'll find a few lawns sporting plastic pink flamingos. In strong retaliation, my ivy shall remain.