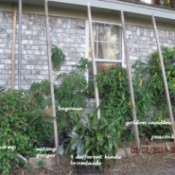 Preparing the garden for fall and winter is a routine task for me. About this time or when the first cool spell arrives, I begin to prepare my winter protection of plants that won't take cold. I separate them into outside, but protected, to go next to the south side of house and green house only plants. I also start to winterize my outdoor stay-in-place plants at this same time.
As I come across plants that need attention, I place it in the section it will go for the winter. Unless it needs repotting, then I place it in the repotting place.
For the plants that stay in the ground but will need mulch, I have mulch I have been collecting for months. This is piled now next to the garden where it will go. After the first frost, I will clip the last of the summer's growth back to make the plant smaller and root those that will root. These rooting pots I place in the outside, but protected spot, just in case the winter in south Georgia is a lot colder than usual.
As for cutting the lilies' leaves, I don't, as I leave them to protect the rest of the plant and cut them back in spring. My roses I cut back in the months of December and January, as we have blooms here until the first frost, and sometimes later. I mulch all of the garden by December with leaves or pine straw. I take my pine straw and run over it with the lawnmower a couple of times and by spring or warmer weather it is degraded down and I can do spring mulch of pure pine bark and leaves.
Remember the plants you put in the greenhouse. Some will need water, some will need no water, and you need to place similar feeding pots together or you drown things you don't want to. Usually a mist of warm water in the greenhouse in winter, unless the pot is severely dry, will do the job.
If you are like me and have a lot of different plants, you will get caught by an early frost or cold spell and lose your plants or work yourself to death and forget where you want certain plants to go. Likewise, plants that you wanted in the greenhouse will end up outside where they won't survive. I start early and that gives me about a month and half to get it all done in my area. This works because you won't be stressed and our flowers aren't supposed to stress you.
Note: Be sure your pots drain easily for their winter storage or the roots will rot. That would be a good reason to repot before you winterize the plant. I also take a lot of small plants or groups of plants and put them in a pot together that is a little deeper than where they were, to protect them and make caring for them easier. In the spring, I can just repot using the soil in the container. It takes a few minutes either way and I don't lose the smaller plants in the jungle in the winter.
The picture is of my outdoor protected area with the cardboard and plastic for when cold weather really sets in. I leave the top 2 feet with only plastic for light and when the sun gets too hot. And on one end during hot days I open it for air circulation. Things like my hibiscus from south Florida will stay green and keep flowering here. If we have extra cold weather, I add a blanket or more cardboard to outside. The house also provides warmth and the window in it is my bedroom. I get to see the pretty blooms when the weather is too cold all winter.
Please note, this won't work where you live if it is in snow country. We usually only get down to 20 degrees.
By gbk from south GA

What do I do about putting my rhubarb to bed for the winter? Do I cut it down or just leave it? Seems to me that in previous years I just left it, but I'm now being told that I should always cut it down.
By sooz
Answers
I am 71 years old and have never known anybody that did anything to their rhubarb to get it ready for winter. They have always had bumper crops of it too.
I am 71 years old and have never known anybody that did anything to their rhubarb to get it ready for winter. They have always had bumper crops of it too.
I'm sorry about all the replies to this, before I got to move on a toddler came up and started slapping on the mouse. Kids! lol

Elaine S.
Bronze Feedback Medal for All Time! 101 Feedbacks
October 14, 2011
0

found this helpful
Well I will reiterate what redhat said, oh, I guess I didn't need to! lol
Answer

this Question