When it's time for frost to hit and we still have veggies that are still producing, we drape sheets or blankets over the veggies before dark. Then when we get up in the morning before the sun is fully out, we take the sheets or blankets off, so as to not bruise the veggies or give them black spot, especially on the tomatoes.
By Betsy from Hoagland, IN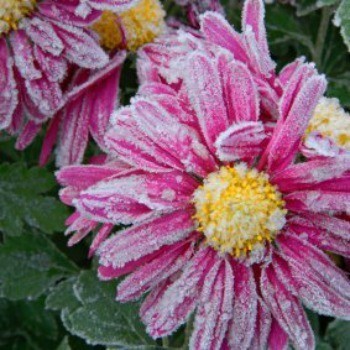 Whether you grow vegetables or flowers, it is natural to want extend the growing season as long as possible. As fall arrives, set aside a few minutes for "frost preparedness". If you can get your annual and perennial plants through the first couple frosts, you can add an extra week or two to your growing season.
Get Organized
The first frost usually arrives without much warning so it pays to make your preparations in advance. As soon as the nighttime temperatures start to dip into the 40's, set aside a few minutes to organize your "frost kit". Start by walking around the garden and making a list of the plants you want to protect and those you plan to overwinter indoors. (You can also take mental notes, but it's easy to forget about a plant if you don't write it down.) Gather up enough supplies to cover everything thoroughly, including:
sheets, blankets, or shower curtains; row covers or plant tunnels
cardboard boxes
empty milk jugs or soda bottles (to use as cloches)
sprinkler heads
stakes and ties
Set your supplies in a corner of your porch or garage where they are easy to access. Keep an eye on the forecast, and continue to keep your garden well-watered and free of weeds. Moist soil holds heat better and weed-free soil allows the heat to rise on chilly nights and warm your plants.
Bury the heat. If you have an electric outlet outdoors, an alternative to covering your plants is to bury electric heating tape in the soil near their roots. This is the same type of tape commonly used for heating up garden beds in the spring. Electric heating tape is available wherever specialty garden supplies are sold. Make sure you follow the manufacturer's directions carefully to avoid creating a fire hazard.
Bringing plants indoors. As for the plants you plan to overwinter indoors, it's time to start getting them used to their new environment. Free up some space indoors so you're ready when it's time to bring them inside. In the meantime, set the plants in a shady spot for a few days, and watch for insect problems. If necessary, treat them with an insecticidal soap before bringing them indoors.
Take Action
When frost is in the forecast, start covering your plants in the late afternoon when the soil is at its warmest. Give top priority to plants growing in frost-prone areas-such as exposed hilltops and low lying areas at the bottom of slopes. Cover individual plants with plastic milk jugs, soda bottles, or overturned boxes. To protect large plants or groups of plants, use old sheets or shower curtains. Prop the covers up with stakes and ties to prevent them from resting directly on the plant's leaves.
If you have a large, narrow area to protect, like a row in your vegetable garden, consider using a floating row cover. Most are protective to about 28 F. Another method is to run your sprinkler system on a fine mist for an hour or two overnight (use a timer if necessary). The water will give off heat as it condenses to ice, keeping the internal temperature of the plants warmer than the air temperature. Don't worry about protecting vegetables like cabbage and kale, or root vegetables like carrots. They naturally produce extra sugars to protect against cold temperatures, and will only taste sweeter after a good frost.
Check for damage: The morning after a frost, remove the covers from your plants and check for damage. If it's still dark but the sun is coming up soon, you can safely remove the covers even if the frost hasn't completely melted yet.