Winterizing Your Chicken Coop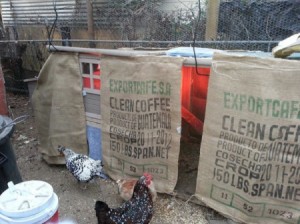 Buy burlap bags from local feed store (about $2 each). Staple them around the coop to cut down on snow and cold drafts coming into the coop. If your coop is not insulated (mine is not) it also works as a good insulator.
Double up on bedding. We use both pine shavings and pine pellets in the winter. The shavings help to trap in warm air.
For the nests, we use nest inserts that have a wax paper bottom. To better insulate the nests for cold weather we keep the older nest insert and place a new clean one on top of it. This provides twice the insulation to keep the girls warmer. We also added curtains to the openings of the nesting boxes to cut down on drafts.

Invest in a digital wireless thermometer. They cost about $20-40. We have one in our coop so we know how cold or hot its getting without having to run out there every few hours to see how they are doing.
We run a 150-250 watt heat lamp inside the coop to keep their water from freezing and the eggs as well. We have it only pointing one direction so if the girls are warm enough they can go to the non-heated side. Be sure to use a screen over the bulb to avoid them getting burned or breaking the bulb.

If temperatures drop severely and suddenly, like they do here in the northwest, you can also buy inexpensive old comforters from a resale shop and toss them over the coop to hold in warm air.
You can also use the "deep litter method" which is basically composting the chicken bedding right in the coop. You sprinkle down diatomaceous earth (to help prevent mites and other undesirable pests), then put about a foot or two of litter down. You occasionally add new litter to this, after stirring it a couple times a month with a shovel or pitch fork. The composting itself kicks off quite a bit of heat and can warm the whole coop.
There are also heated water bowls available at the feed stores.
Winter Chicken Care:
Keep an eye on those feet and waddles. If you notice they are abnormally dry or seem to be changing colors get the bird inside and rub on a thin layer of Bag Balm or Vaseline to protect their wattles from the cold.
Be sure to keep up on gathering eggs and getting them inside as they will freeze and split!
Add your voice! Click below to comment. ThriftyFun is powered by your wisdom!
Related Content