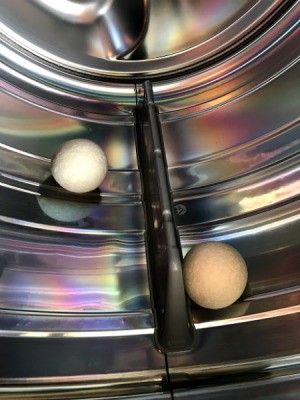 About a year ago, I transitioned into using wool balls - they are a natural laundry fabric softener. I purchased my wool balls on Amazon, but you can purchase them online, in select stores, or even make your own.
Reasons to switch to wool balls:
1. Store bought, commercial fabric softeners and dryer sheets contain a lot of chemicals and it's not good for you and your family. However, if you prefer a lightly scented fabric softener you can definitely add a couple drops of your favorite essential oil on the wool balls.
2. You get the same results as fabric softeners and dryer sheets, but the balls are a natural alternative. Wool balls will help your clothes dry quicker, this means less energy used and you should see a difference in your electric bill!
3. Investing $10-20 for wool balls that will last you over 1,000 loads which is equivalent to about 2-5 years depending on your laundry loads. Ultimately you will save a ton of money and time (no need to buy anymore softeners/dryers or go to the store for them.)