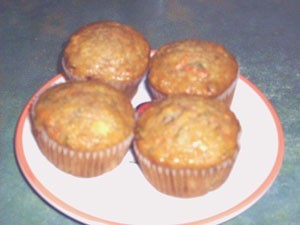 Ingredients
3 eggs
1 cup oil
2 cups sugar
2 tsp. vanilla
1 cup shredded carrots
1 cup shredded zucchini
1- 16 oz. can crushed pineapple, well drained
3 cups flour
2 tsp. baking soda
1 tsp. salt
1/2 tsp. baking powder
1 1/2 tsp. cinnamon
3/4 tsp. nutmeg
1 cup raisins
Directions
Beat eggs, oil sugar and vanilla until thick and foamy and stir in rest of ingredients. Stir gently, just until blended. Put into prepared bread pans or muffin tins.
Bake at 350 degrees F, 1 hour for loaves or 20 minutes for muffins.
Substitutions:
Can replace 1/2 the flour with whole wheat flour.
Can use all carrot or all zucchini.
Can replace 1/2 the oil with applesauce.
Source: I really was never fond of zucchini until I got this recipe from a friend of mine, who got it from a home- ec teacher years ago. These are so good as to be addicting!!
By Debbie from Brockway, NB