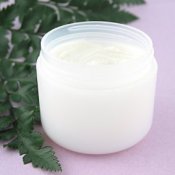 Almond oil makes the best, cheapest and longest-lasting moisturizer I have ever used. You use only a tiny bit and work it in well. I used to spend a fortune on the most expensive beauty products in the belief that the more I spent, the better the result and the purer the product.
It was a well-known American beauty writer who told me that in truth the "purest" products on the market were Ponds Cold Cream for cleansing and almond oil for moisturizer. That was fifteen years ago and I've never looked back! I spend about $15 a year at the very most.
By Lucy from England, UK
Read More

Comments

I would like to make my own skin moisturizer. I would like to make it with lanolin and other products that I can buy in the health food store. I use a natural moisturizer that I add a few drops of essential oils to boost the aroma.
It is good, and works well. What I want to make is a body butter that will work with sensitive skin, and help with winter chapping. I was hoping to find good recipes and be able to make and give it for the holidays. Thanks.
Answers
By Anne from Arizona (Guest Post)
November 4, 2008
0

found this helpful
Have you tried doing a Google search? There are lots of recipes for body care products available. I never did find one that fitted my needs for lotion but I found one for non prtroleum jelly and lib balm that I like.

November 5, 2008
0

found this helpful
I"m thinking of making some too!
A wonderful (but maybe too strange) lotion my Mom used to make is this: She'd save up the oil left from boiling chickens in a container in the freezer. When she had enough she's heat it and add in several handfuls of dried chamomile flowers and let it sit until cool. She'd then strain it and keep it in the fridge. No one we knew ever has scaly feet or dishpan hands!
You could do the same using vegetable shortening.
Scent it with essential oils.
By Barbara (Guest Post)
November 6, 2008
0

found this helpful
Hi, Thank you for all the advice! I had done google searches before asking the thrifty fun community. Make your own cosmetics.com is wonderful and just the info that I was looking for! Thanks castleberrycc!

June 11, 2009
0

found this helpful
Go to the dollar store and buy a basic lotion with Shea butter in it, then add a jar of vitamin e facial moisturizer and a couple of table spoons of glycerin undiluted. After that, add some sweet almond oil, and a few drops of essential oil.
Blend it up and put it in small containers. It's the best cream I've ever had for on the cheap side. You can get most of the ingredients at the dollar store.

June 11, 2009
0

found this helpful
You can buy the glycerin at Wal Mart. It's cheaper there than at the craft store.

November 6, 2009
0

found this helpful
There are several options:
1) a ratio of water to glycerine works very well. Try a 1:5 ratio. Glyverine is hygroscopic which means it pulls or attracts water molecules from the air. I boil roses or lavender with water, strain, and then add glycerine to make homemade lotion for hands, face, lips. Smells terrific. Dip a couple fingers in it (it's not thick) and rub it on. Non greasy, feels great.
2)Extra virgin olive oil is cheap at discount stores (I buy mine for $3.99 at Aldi). It's a great facial, eye or body moisturizer, and it's cheap.
3)Buy a stick on 100 percent cocoa butter to keep in your purse at Dollar General for..only $1! Great for hands, lips, elbows, cheeks, etc!
4)I don't like to use it often, but petroleum jelly works in a pinch as a facial mositurizer. It wont' clog pores. We keep this for bikeriding as it's a necessity and it also stands in as a good, quick lip protectant. I think the other options I listed are better and more enviro-friendly. However, peoole have been using petroleum jelly for a century or more. I have a tiny jar I keep in the house. This Halloween, we rubbed it on the cut pumpkin surfaces to retard spoilage as they sat out on porch. Can't think of any other great uses. Try the top 3 suggestions, first. Cheap too!

August 31, 2010
0

found this helpful
Lanolin isn't very good for sensitive skin.
Answer

this Question

Does anyone have any suggestions for a good, but thrifty, daily facial moisturizer for the over 60 female?
By Sheela from GA

Answers

pam munro
Gold Post Medal for All Time! 519 Posts
January 18, 2012
0

found this helpful
I like Olay Brand, there are also generics of that to try. I mix & match my moisturizers, depending upon weather, etc. Try out free samples @ dept. stores & online. Also try cheap(er) no-name moisturizers from places like T.J. Maxx, your drug store.
I just picked up some bargain moisturizer on sale after Xmas at RiteAid, not bad. Even have found things at the 99 Cent Store! (And you can always seal moisture in by applying a thin coat of petroleum jelly as over night moisturizer.)

Robyn Fed
Silver Post Medal for All Time! 398 Posts
January 18, 2012
0

found this helpful
I used to use three things when my skin needed a moisturizer. I would wash with either dove or ivory hand soap, the bar kind you buy for the bath tub. Then I would take a small amount of olive oil and rub into my face, I would then tissue it off.
Then I would wash with either noxema or dove soap. I love noxema for my skin but I ended up getting allergic to it on my face. Olive oil is great. I don't just leave it on my skin but I use tissue to softly wipe it all off.
An oatmeal facial feels so good to me every so often. I just get a few oats in my hand and put water on it. Then I rub the oat water on my skin. Leave it for a few minutes and then wash it off. I tend to like using natural things if I have the chance to.
Crisco is the greatest thing also. If you have spots on your hands or feet that won't stop being dry, you can rub this on and put on a glove or a sock overnight with a plastic bag underneath. Or you can just rub it in each night. I am getting ready to do a foot moisturizing treatment with it over night for my feet. You just use a small amount of crisco. It is very good for the skin.
Read More

Answers