It's so heartbreaking when you've finally grown out your nails nice and long and one of them decides to crack. Instead of cutting them all short to keep them even, you can keep them long! This is by far the best method I've found on how to save a cracked nail without going to the nail salon. You'll need a drop of super glue and a tiny piece of toilet paper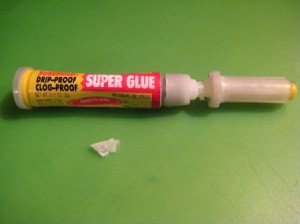 Make sure your nail is clean and dry. Cut or rip off a tiny piece of one-ply toilet paper that is just big enough to cover the crack or rip in your nail. Place the toilet paper on top of the crack and squeeze a drop of super glue on top of the toilet paper. Let dry. After a minute, it will be clear! (not pictured) Gently file if necessary. Do not file the side the crack started on too much or the bond will be useless. This method is the same as getting the nail salon to give you an acrylic seal.
By attosa from Los Angeles, CA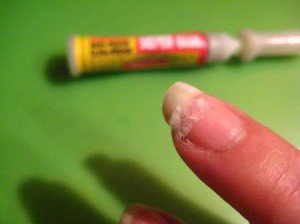 Comments
March 3, 2012
0

found this helpful
You can buy nail glue in the cosmetics department of your CVS or Walgreens. It is made for nails. Super glue might have something in it you shouldn't use on your body. It is always best to use things for their intended purpose.
March 3, 2012
0

found this helpful
I've always done the same thing too, Attosa :-) Works great!
Lilac, super glue and nail glue have nearly all the same ingredients but nail glue doesn't have as strong of a hold. Manicurists have used super glue since the early 1970's, when it first came out on the market, for patching nails and they use nail glue as an adhesive for false nails because it's easier to remove the false nails if you need to.
Also, finger nails are a protective dead appendage so there is no way it's going to harm your body by being on them.
March 3, 2012
0

found this helpful
I'm so happy you use this method too, Deeli! I absolutely swear by it! Lilac, super glue is cyanoacrylate based which is fairly hypoallergenic. The nail glue is the same as super glue, just diluted. You can use it with this method, it just won't last as long :) Cheers!
March 4, 2012
0

found this helpful
I've used this too in the past but didn't use any toilet paper. Worked until nail grew a little longer.
Read More Comments