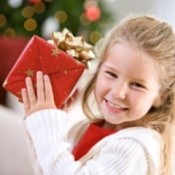 During the holidays, kids are bombarded by commercials and ads touting the latest "must-have" toys and video games, and it's easy for everyone in the family to get caught up in the commercial side of the season. Here are some ways to move away from the materialistic side of things, and keep your children focused on family by teaching them about the true spirit of giving.
Gift Them Experiences
When you examine your own childhood memories, it isn't usually the gifts you remember most about the holidays, it's the experiences. Shift focus away from the materialistic side of the season by turning off the TV and creating some new holiday traditions. Go to a play or a movie, bake and decorate sugar cookies, go ice skating, take snowboarding lessons, or grab a thermos of hot chocolate take a drive through the neighborhood to view holiday lights.
Material gifts. When it comes to exchanging material gifts, go for quality over quantity. Instead of showering them with dozens of presents, give each child just one gift that they really want. If necessary, pool resources with other family members to make it affordable.
Don't be afraid to slow things down. Instead of everyone ripping their gifts open at once, take turns. This allows everyone a chance to see each gift and gives the recipient an opportunity to thank the person who gave it to them.
Instill A Sense Of Gratitude
Saying thank you is an important social skill (and one that should be taught), but to truly instill a sense of gratitude in a child, you need to lead by example. After the holidays, sit down as a family to write thank-you notes. Talk to your children about how grateful you feel for the gifts you received and talk about the things enjoy most about the holidays. Help young children write a note of thanks to each person that gave them a gift and tell them to explain to that person what they like most about it.
Help Them Help Others
There are endless ways to get kids involved in helping others during the holidays. Present your children with several options and then let them choose how they would most like to help others during the holidays and you'll help instill the values of kindness and giving that will last throughout the year.
Adopt a soldier who has no family close by and invite them to your house to enjoy a holiday meal.
Before Christmas, ask each of your children to go into their rooms and pick out several gently used toys they want to donate to charity.
Take kids shopping and let them pick out a toy or new hats and mittens for a child in need.
Bake holiday cookies and deliver them to a local nursing home or homeless shelter.
Older children can help walk an elderly neighbor's dog or shovel their sidewalk.